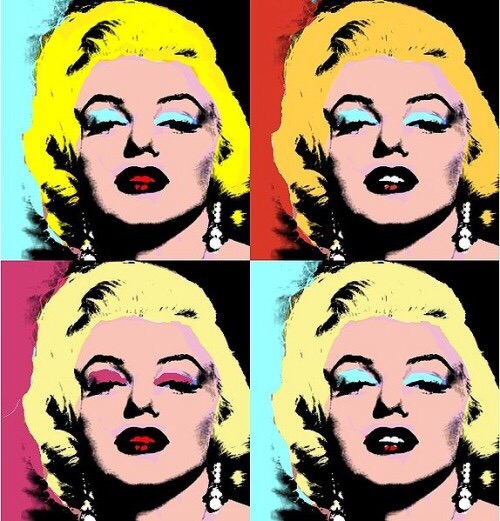 "V osamělosti nevidím nic nenormálního"
– Otec budoucího umělce byl horníkem a zemřel, když bylo Andymu 13 let.
– Dětský obrázek Warhola byl nedávno prodán za 2 miliony dolarů. Předchozí majitel koupil náčrtek za 5 dolarů.
– Byl si velmi blízký se svou matkou Julií, také umělkyní, která podporovala svého syna při všech jeho projektech. V roce 1952 se Julia Warhol přestěhovala do New Yorku, kde ve stejném bytě žili téměř 20 let, až do její smrti.
– Jeden z neuskutečněných projektů navrhnutých Warholem: síť jídelen Andy-Mats pro jednotlivce. Sám umělec preferoval jíst bez společníka. Zbytky jídla ho znechucovaly, takže nikdy nedojedl, to co zůstávalo na jeho talíři.
– Warholův oblíbeným kusem oblečení byly džíny. Zvlášť Levi's 501. Snil o tom, že vymyslí něco takového – jednoduché a funkční.
– Warholova oblíbená hračka byl diktafon: umělec ho vždycky nosil s sebou a neustále se snažil zachycovat své vlastní myšlenky a rozhovory s ostatními lidmi.
– Přátelé mu říkali Drella – spojení Dracula a Cinderella (Popelka)
– Měl komplexy z tvaru svého nosu a nakonec šel pod kudlu k plastickému chirurgu, aby se už nemusel dívat do zrcadla na to "obrovské monstrum".
– Na premiérovém promítání Warholova "Snu" bylo devět lidí, až do konce jich zůstalo sedm. Film trval pět a půl hodiny a zobrazil sen jednoho z režisérových přátel.
– 3. června 1968 byl na Andyho Warhola spáchán atentát: radikální feministka Valerie Solanas střelila umělce třikrát. Kulky zasáhly plíce, jícen, slezinu, játra a žaludek. Warhol přežil klinickou smrt.
– Jeden z Warholových asistentů, Gerard Malanga, který pracoval s umělcem po dobu pěti let, byl zatčen v roce 1968 kvůli falšování šéfových obrazů.
– Když se Warhola zeptali na jeho problémy, řekl, že je jeho hlavním problémem akné. Pořád maskoval svůj obličej bílým krémem, kvůli čemuž vypadal hrozně bledě.
– Zemřel v roce 1987 v důsledku komplikací způsobených operací žlučníku. Do rakve mu položili jeho časopis Interview stejně jako flakonek parfému Estee Lauder, který byl umělcem nejvíc milován.
– Po jeho smrti byly zveřejněny všechny jeho deníkové záznamy, a že toho bylo hodně! Warhol pečlivě zaznamenával všechno, co se mu stalo, včetně večeří v restauracích nebo jízd taxíkem.