Jak zobrazit texturu dřeva fixy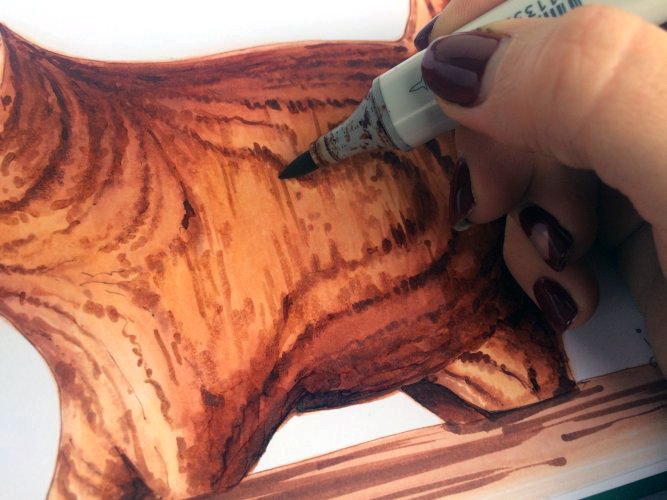 Texturu dřeva vídáme všude kolem nás. Jak ji ale snadno a rychle zobrazit ve skicách, aniž byste nad tím strávili spoustu času? Rozeberme si a ukážeme si jednu z jednoduchých technik.
Vzor dřeva je různý jak v barvě, tak ve vzoru. Základní struktury borového dřeva jsou zobrazeny ve třech oddílech, které jsou uvedeny níže: a, b, c.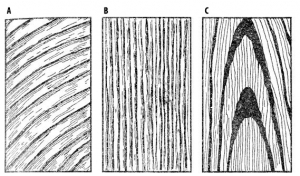 Na základě těchto schémat můžeme znázornit dřevěný povrch. Hlavní kresba, charakteristická struktura stromu, je znázorněna na obrázku "c". Budeme jej v tomto článku analyzovat pomocí kreslení dřevěného trojrozměrného objektu.

Nakreslíme trojrozměrnou dřevěnou kočku. Pozor, texturu budeme zobrazovat ve tvaru objektu, ne ploše jako na obrázku.
Krok 1. Náčrt
Nejprve kreslete tužkou. Zakreslete tvar kočky a lehce naznačte směr čar vzoru dřeva.
Čáry tužky překreslete linerem. Můžete si vzít jakýkoli, nejdůležitější je, aby byl odolný proti vodě. Pak náčrtek kreslený tužkou vygumujte elastickou gumou. Nyní je kresba připravena pro práci s markery.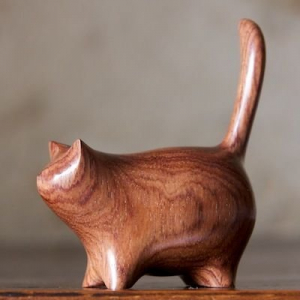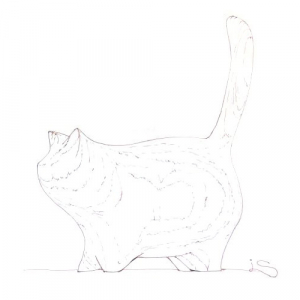 Krok 2. Vybarvujeme kočku fixami
Začněte tou nejsvětlejší fixou, vykreslete nejvíce osvětlené části těla kočky. Světlo dopadá na levou spíš dolní část, což znamená, že tato strana bude nejsvětlejší. Nanášejte barvu tahy podle tvaru (jak je znázorněno čarami na obrázku).
Dále udělejte tmavší barvu stinné oblasti a poté pomocí fix vytvořte přechod středního tonu. Přechod tvoříte tedy mícháním barev.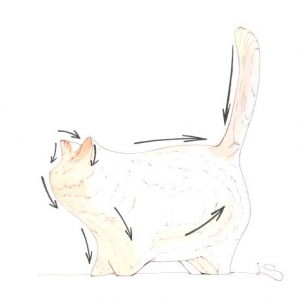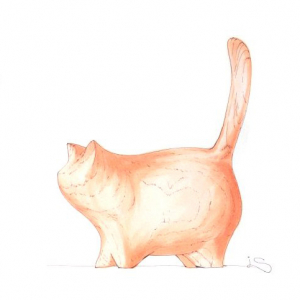 Krok 3. Nakreslete texturu dřeva
Nyní nakreslete čáry textury dřeva.
Poté vezměte trošku tmavší odstín a ztmavte čáry v nejtmavších částech těla kočky. Ale ne úplně, na některých místech zachovejte původní barvu.
Náš princip: začínejte od tmavých oblastí ve stínu a protahujte je do světlých oblastí (míchání barev).
Pak s ještě tmavšími fixami nakreslete čáry dřevěné struktury kočky.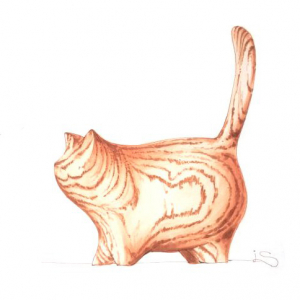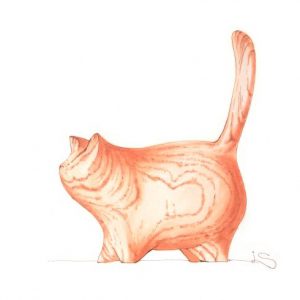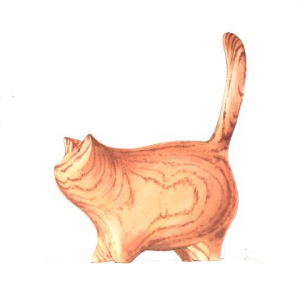 Krok 4. Práce s detaily
Nyní nakreslete bílou propiskou odrazy světla. Tam, kde se světlo odráží od povrchu, vzniká bílá skvrna. Propisku než zaschne, můžete jemně rozmáznout prsty. Ale nejprve to radši vyzkoušejte na jiném papíře.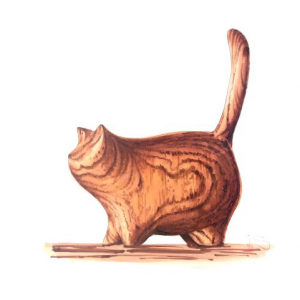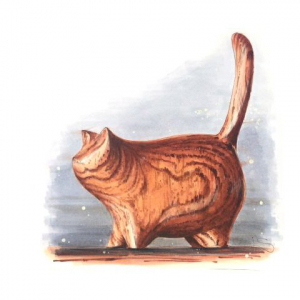 Nezapomeňte, že takový obrázek můžete nakreslit jakoukoli technikou! Nezáleží na tom, jestli jsou to akvarely nebo barevné tužky. Všechny kroky jsou podobné.
Chcete-li se dozvědět jak zobrazit fixy i jiné textury, přihlaste se na náš kurz designérské kresby.
https://www.drawplanet.cz/kurz/kurz-kresleni-fixami-designerske-popisovace/