Jak postupně nakreslit oko tužkou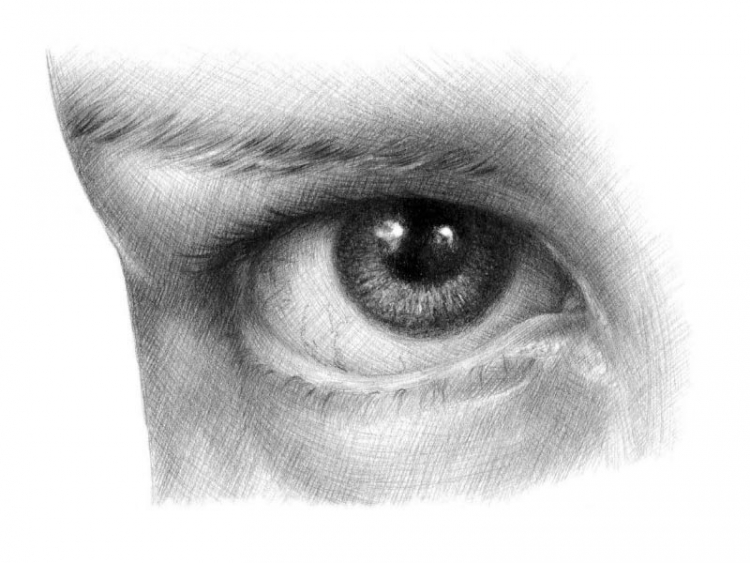 Nejdříve definujeme názvy určitých oblastí oka, aby bylo jasné, o co jde.
Obočí, horní víčko, záhyb víčka, slzný hrbolek, zornice, řasy, duhovka, bělmo, dolní víčko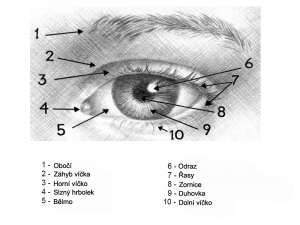 Teď se podívejte dolů na výkresy očí z různých úhlů pohledu. Také si povšimněte, že se oči u jednotlivých lidí liší různými tvary a délkou očních víček a různou hustotou a délkou řas.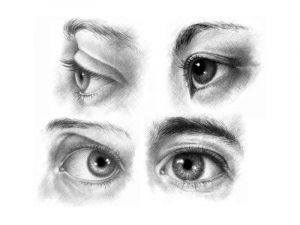 Začneme kreslit oko. Nakreslíme dva kruhy – to bude oko (oční bulva) a duhovka.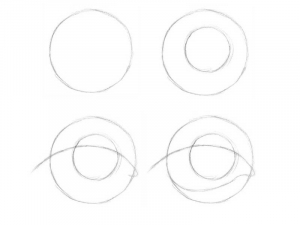 Potom nakreslete čáry zobrazující okraje horních a dolních víček.
Nakreslete zornici a linii obličeje.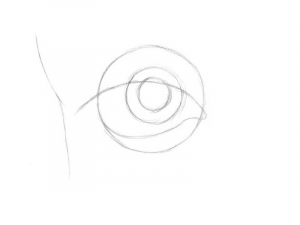 Gumou odstraňte čáry, které jsou nad a pod samotným okem. Nakreslete několik čar v oblasti obočí.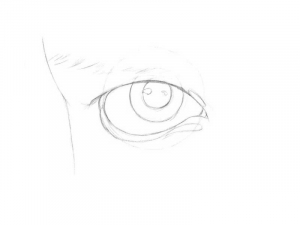 Nyní nakreslete čáru, která bude zobrazovat tloušťku okraje spodního víčka. Nakreslete vpravo pod oko něco jako prodlouženou kapku. Vpravo nahoře nakreslete ovál, zakreslete oblast slzného hrbolku. Nakreslete odraz světla na zornici.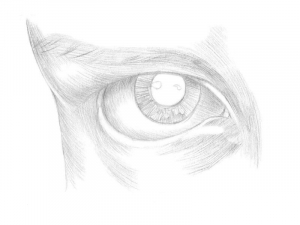 Šrafování určuje tmavé oblasti. Podívejte se na směr, ve kterém jsou čáry nakreslené. Musí kopírovat tvar povrchu obličeje. Použijte tužky HB a 2B k přenosu tónu. Věnujte pozornost tomu, které oblasti jsou tužkou nedotknuté – to budou světlé oblasti. Budeme kreslit hnědé oči, takže oční duhovka bude tmavá. Světlé hnědé, modré nebo zelené oči mají střední tón. Bleděmodré, zelené nebo šedé oči jsou velmi světlé v tónu a kontrastu.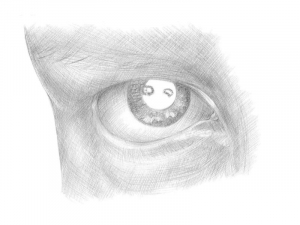 Použijte tužky 2H a HB a křížové šrafování. Vyřešte hlavní objemové oblasti a použijte sadu tónů od velmi lehkých až po téměř černé. Ztmavte oční duhovku.
Pomocí tužek HB a 2B přidejte střední tóny. Nespěchejte! Neváhejte pečlivě prostudovat všechny stíny a polostíny. Věnujte zvláštní pozornost prvkům, které by měly zůstat světlé. Kontrast mezi světlými a tmavými tóny dodává na reálnosti a správném objemu naší práce.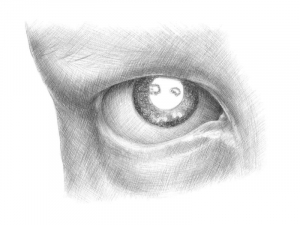 Pomocí tužky 2B přidejte stíny do vnitřního a vnějšího rohu oka. Použijte ostré HB a 2B tužky pro zakreslení obočí. Přejděte ke stínování zornice pomocí tužek 4B a 6B, nezapomeňte ponechat odrazy v očích.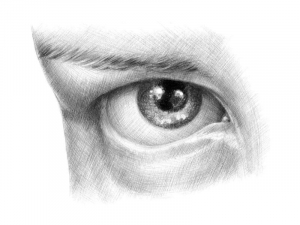 Pokud je to nutné, ztmavte oblasti nad okem pouze přidáním dalších čar mezi již nakreslené. Ztmavte oblast v rohu oka. Přidejte tóny na další místa. Tužkou HB nakreslete řasy. Vyrůstají z vnější strany horních a dolních víček. Přidejte cévy v podobě nerovných tenkých čar.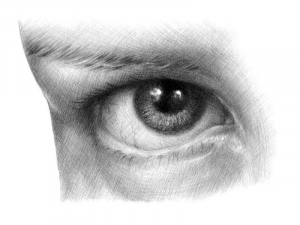 Rozepsali jsme tu to dost podrobně. Ale přesto nejlepším způsobem jak se naučit kreslit zůstává mít nad sebou profesionální vedení. 🙂 Pokud Vás zajímá kresba, přijďte do Draw Planet na Kurz kresby pro začátečníky. A jestli máte zájem o zobrazení lidského obličeje, je kurz kreslení a malovaní portrétu přímo pro vás!