Jak nakreslit koně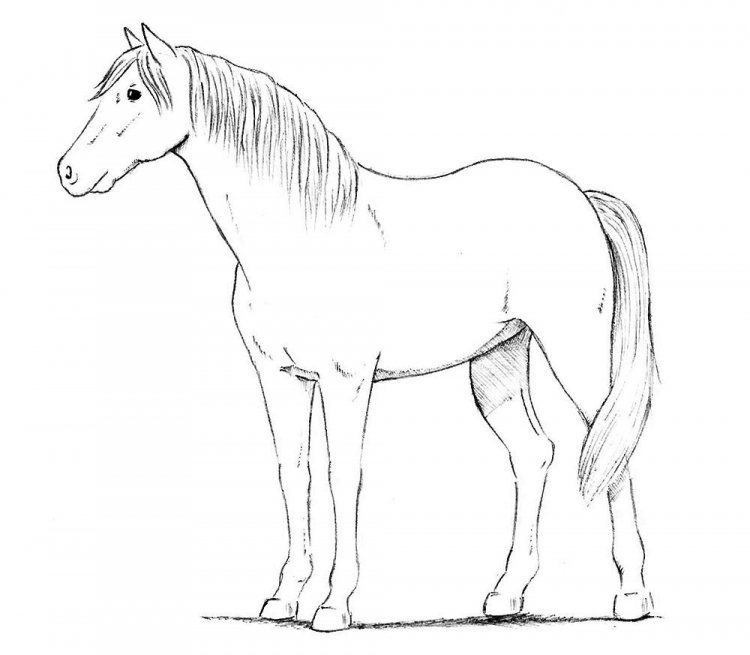 Jak postupně nakreslit koně? Právě se o to jdeme pokusit, jen čtěte dál.
Krok 1
Nejprve nakreslíme malý kruh. Je důležité, aby se nacházel v levé horní části. Jak jste jistě uhodli, vytvořili jsme náčrt hlavy našeho koně.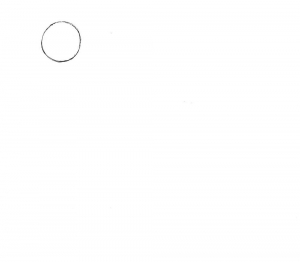 Krok 2
K dolní levé části "hlavy" přikreslíme objekt podobný květináči. Pořádně se podívejte, jak je umístěn vzhledem ke kruhu (hlavě) na našem nákresu a umístěte jej stejně.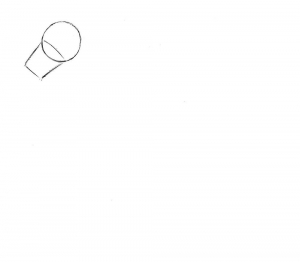 Krok 3
Nyní načrtneme obrysy krku koně. Uděláme to pomocí zaobleného tvaru. Jedním koncem ho připevníme k horní části kruhu a druhým ke spodní části kruhu. Všimněte si, že tvar je hladký, ale směrem dolů se výrazně se rozšiřuje.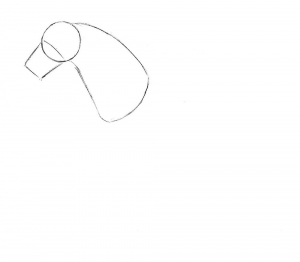 Krok 4
Pojďme pokračovat dál, je před námi to nejzajímavější. Načrtneme ve vodorovné rovině dva kruhy, nejprve velký a pak menší. Dávejte pozor na důležitou věc – nemají střed ve stejné rovině. Malý kruh přiléhá k velkému o dost výš, než je pomyslný střed velkého kruhu.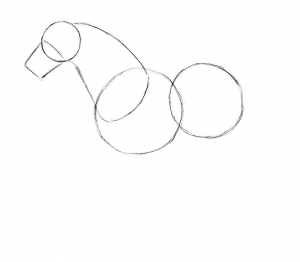 Krok 5
Nakreslíme obrysy nohou. Přední pár je jako dlouhé protáhlé válce, které se směrem dolů velmi jemně zužují a úplně dole (v oblasti kopyt) se mírně rozšiřují. U dvojice zadních nohou je navíc i ohyb, který odděluje stehno a holeň. Na zadní noze dál od nás je ohyb mnohem výraznější než na bližší noze.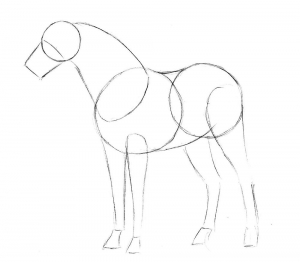 Krok 6
Podívejte se, čeho jsme v tomto kroku dosáhli!
Nakreslíme obrys oka (je to velmi blízko čáry uvnitř kruhu hlavy) a uší (dva trojúhelníky na vrcholu hlavy). Rovněž vymezíme obrysy nozder a úst.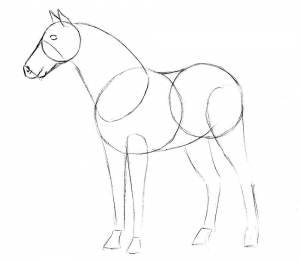 Krok 7
Vymažeme přebytečné čáry z předchozích kroků, tzv. vyčistíme výkres.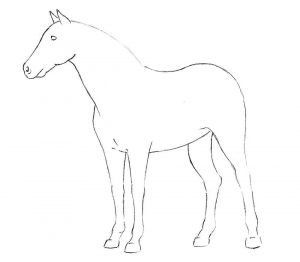 Krok 8
Co by to bylo za koně bez hřívy a ocasu? Hříva bude v oblasti čela vypadat jako ofina. Na zádech vypadá jako dlouhé vlasy. Hlavní pravidlo: když kreslíte chlupy hřívy nebo ocasu, bez ohledu na to kde – kreslete je pouze ve směru růstu, od kořenu ke konečkům.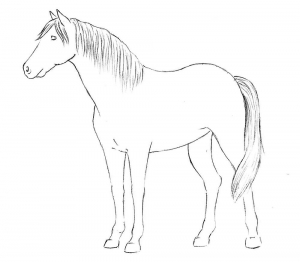 Krok 9
Teď uděláme lehké stínování. Nezapomeňte na velkou stínovanou oblast na zadní noze dál od nás. Velmi důležitým bodem je stín na zemi pod koněm. Pokud by tam nebyl, zdálo by se, že se náš malovaný kůň vznáší ve vzduchu.
Na našem kurzu kreslení pro začátečníky se budeme postupně učit kreslit věci od úplných základů. Přihlaste se a naučte se stínování, šrafování a mnoha dalším věcem!
https://www.drawplanet.cz/kurz/kurz-kresby/