Jak kreslit ruce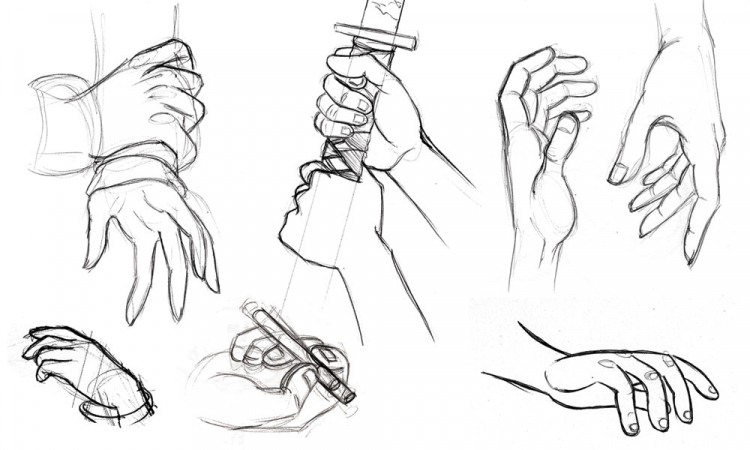 Ze všech částí těla se zdá, že se nejvíce obtížně kreslí ruce. Všichni můžeme vyprávět temné příběhy o tom, jak jsme schovali ruce našich hrdinů do kapes nebo za záda, abychom se vyhnuli jejich nakreslení. Paradoxně jsou naše vlastní ruce nejvhodnější předlohou, kterou nosíme všude s sebou a máme ji skoro neustále v zorném poli. Pomocí zrcadla a malého úsilí můžeme pochopit jak nakreslit ruce ze všech stran a v jakékoli poloze. Jediným "ale" v tomto příběhu je, že jsou ruce složitým nástrojem, plným kloubových detailů a když je kreslíte, ne vždy víte, odkud začít.
Nejjednodušším způsobem, jak kreslit ruku, je začít dlaní. Dlaň by měla vypadat jako kulatý, obdélníkový nebo lichoběžníkový steak se zaoblenými rohy, ke kterému budou připojeny prsty.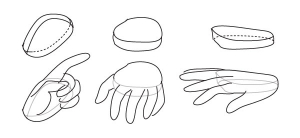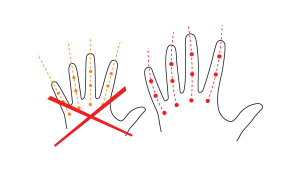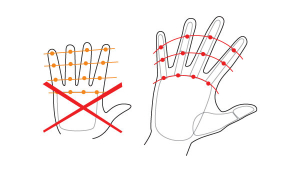 Máte-li potíže s kreslením prstů, představte si každý prst jako řadu spojených válců. Taková jednoduchá forma vám pomůže nakreslit prsty z jakéhokoli úhlu. Podívejte se na obrázek: z okrajů válců se stávají čáry, které zobrazují kloubní ohyby.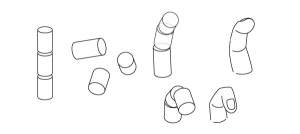 Nezapomeňte na nehty. Není potřeba je kreslit vždy. Kreslete je pouze v případě, kdy je ruka na kresbě blízko k divákovi a potřebuje takové detaily.
Struktura rukou je individuální, stejně jako u obličeje. Mužské ruce se liší od ženských, mladé od starých a tak dále. Níže uvádíme několik klasifikací, ale nezahrnují celou řadu rozmanitostí rukou. Ruce můžou mít charakter (a to je správné slovo) pokud jde o jejich rozdíly.
-Formy rukou

-Rozdíl v poměru prstů a dlaní

-Formy prstů
A nehty jsou také u různých lidí různé! Dokonce i se stejnou velikostí nehtového lůžka se můžou lišit rozdílnou manikúrou.
Jednoduché cvičení
Podívejte se na vaše ruce a ruce lidí kolem vás. Jak jsou uspořádány prsty? Čím se liší mužské ruce oproti ženským? Jaký je rozdíl mezi rukama vaší babičky a vašima? Dokážete rozeznat své přátele podle jejich rukou? Skicujte ruce, které vidíte naživo nebo skicujte podle předloh. Nedělejte si starosti s poměry, jen zachyťte jejich výraz.
Nakreslete si vlastní ruce v různých pozicích, pomocí zrcadla, z různých úhlů, vždy začínejte s nejjednoduššími formami. Můžete také vytvořit energické náčrty a pak dokreslit detaily.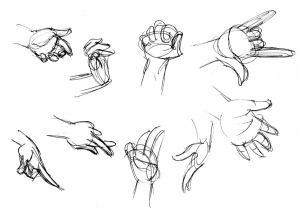 Na kurzu figurální kresby v Draw Planet společně s našimi šikovnými lektory zvládnete správně nakreslit ruce (nejen) podle živého modelu, přijďte si to vyzkoušet!