JUST DO IT!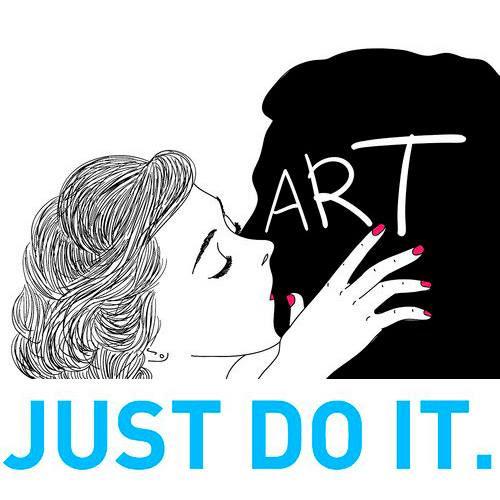 Znovu hledáte nejlepší rady, jak se stát dobrým umělcem? Musíte mít jistě hromadu otázek, které byste položili svým uměleckým vzorům, k nimž vzhlížíte.
Pronásledují vás v duchu otázky typu "Jak jste přišel s touto myšlenkou?", "Jaký software, jaké materiály?" "Jak dlouho to trvalo?", "Čím jste začali a čím jste skončili?" Dostanete odpovědi, které samozřejmě, obsahují cenné informace pro umělce na samém začátku tvůrčí cesty. Existuje však další rada, kterou vám můžeme dát a která je pro váš pokrok mnohem užitečnější:
JUST DO IT!
Nemusíte se moc starat o podrobnosti jak-co-proč se dělá na kresbách umělce. To všechno je čistě individuální preference. Je to volba, kterou učinil určitý člověk. Neexistuje dostatečně silný důvod k tomu, aby tvůrčí rozhodnutí jednoho umělce bylo pro vás pravidlem. Existují tisíce způsobů, jak dosáhnout podobného výsledku a nejlepší z nich není něčí jiný, nejlepší je ten váš vlastní způsob. Jak vytvořit vlastní cestu? Snaha pohnout se vpřed, vaše malé krůčky – tak se vytváří vlastní cestička!
Neexistují správné a špatné cesty. Nezaměřujte svou pozornost na to, že můžete nějak "špatně" kreslit. To, co byste měli udělat, je otevřít své srdce a duši, abyste pochopili, že příště to zvládnete nakreslit lépe. Umění je zavazadlem zkušeností. Nestanete se pánem svého řemesla ani za noc, za týden nebo dokonce za rok. Postupné učení, touha po nových vědomostech a neustálé zvyšování laťky – a dostanete se tam, kam chcete. Nakonec budete šokováni tím, jak moc během této cesty pochopíte a procítíte své tvůrčí jádro a sebe samého.
Nicméně, neříkáme to proto, že byste neměli klást otázky jiným umělcům – naopak, ptejte se jich. Ale nechtějte radu. Pak byste je jen slepě následovali, jakoby to byl recept z knihy o vaření. Naopak, vstupte do dialogu. Sledujte a zkoumejte. Kritizujte a vnímejte kritiku na svou adresu. Porovnávejte různé techniky, které se vám líbí a zdají se blízké Vašim rukám.
Nezapomínejte na to, odkud jste přišli a kde chcete být.
Co je potřeba udělat, abyste se tam dostali?
Pojďte a udělej to!
A teď do práce.