3D modelování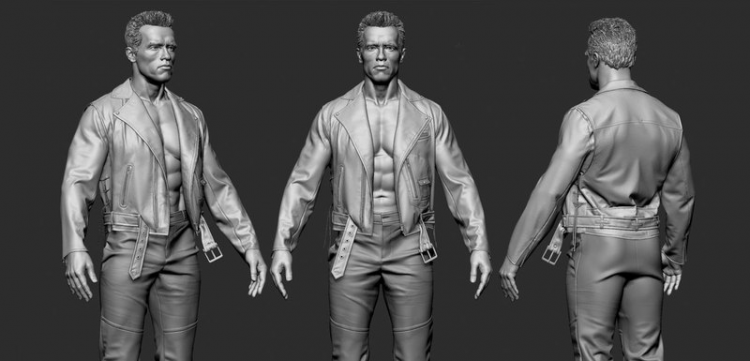 3D modelování se stalo součástí našeho života a částečně nebo zcela změnilo některé typy podnikání. Ve všech průmyslových odvětvích, ve kterých 3D modelování přineslo změny, existují jak určité standardy, tak nevyslovená pravidla.
Nejprve se podíváme, jaké jsou typy 3D modelování a kde se používají.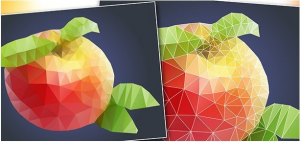 Existují tři velká průmyslová odvětví, která si dnes nelze představit bez použití trojrozměrných modelů. Jedná se o:
Zábavní průmysl
Lékařství (chirurgii)
Průmysl
Na první odvětví narážíme téměř každý den. Jde o filmy, animace a 90% počítačových her. Všechny virtuální světy a postavy jsou vytvářeny stejným principem – polygonálním modelováním.
Jako polygony nazýváme trojúhelníky a čtverce.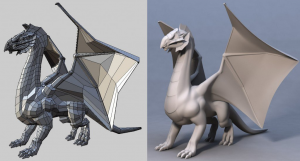 Čím více polygonů je na modelové oblasti, tím přesnější model to je. Nicméně to neznamená, že pokud model obsahuje jen pár polygonů, je špatný a člověk, který ho vytvářel je nešikovným. Stejnou věc nelze říci o tom, že pokud je v modelu obrovské množství polygonů (High poly), je to správně. Vše závisí na cíli. Pokud například mluvíme o hromadných násobcích, představte si, jak se bude cítit váš počítač, když bude muset zpracovat kolem 200 high poly postav?
Polygonální modelování se děje při manipulací s polygony v prostoru. Pohybování, otáčení, ohýbání atd.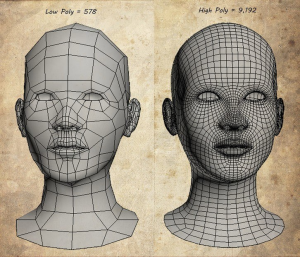 Průmyslovým průkopníkem v tomto oboru je Autodesk (známý mnoha výrobcům AutoCADu).
Produkty Autodesk 3Ds Max a Autodesk Maya se de facto staly průmyslovým standardem.
Ještě existuje směr jako je 3D-sculpting. Je to vlastně pořád stejné polygonální modelování, ale zaměřené na vytvoření převážně složitých biologických organismů. Používá jiné nástroje pro manipulaci s polygony.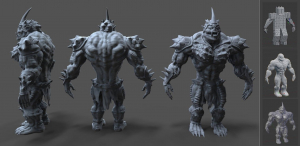 Je-li polygonální model vyroben ve formě uzavřeného objemu, jako jsou třeba sochy, pak díky moderní 3D technologii tisku (která dokáže vytvořit téměř jakýkoli tvar) může být realizován.