Postupné kreslení koček: všeobecné principy kreslení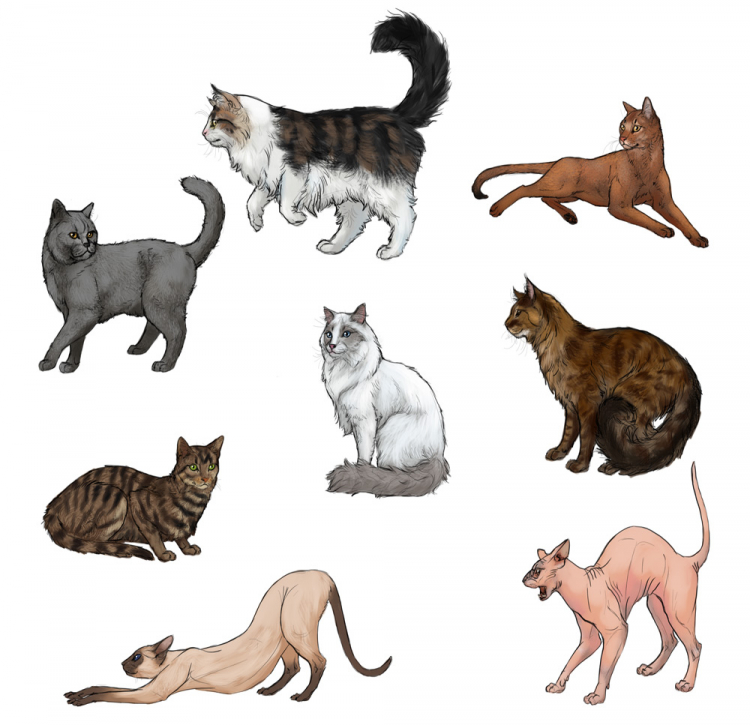 Zjednodušená anatomie
Tvar těla každého zvířete je určen dvěma anatomickými úrovněmi: kosterní a svalovou strukturou. Jsou sice ukryty pod kůží a srstí, ale bez nich by bylo kočičí tělo beztvaré.
Kostra kočky může být zobrazena zjednodušeně. Stačí si vzpomenout na tělesné proporce a umístění kloubů. Když to párkrát procvičíte, budete schopni zobrazit kočku z různých úhlů pohledu.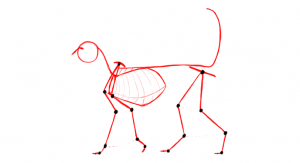 Nejjednodušší způsob, jak si to procvičit, je podívat se na obrázky koček a nakreslit schematicky jejich kostru.
Po několika desítkách těchto skic si Vaše oči i ruka zapamatují, kde se co nachází.
Tip: Chcete-li kreslit kočky "z hlavy", zkuste se při procvičování co nejméně se dívat na vzorový obrázek – tak vycvičíte paměť.
Při kreslení věnujeme zvláštní pozornost páteři. U koček jsou záda velmi flexibilní, tato flexibilita je omezena pouze žebry a stehny.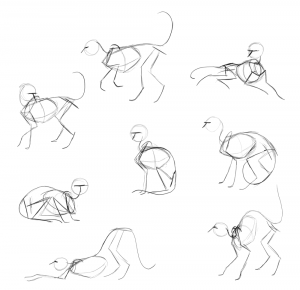 Kočičí svalstvo je složitější než kostra ale naštěstí se o něj nemusíme starat. Vybavujete si na "nahé" sfinx? Nakolik mají vrásčitou kůži.? Všechny kočky mají pod srstí stejnou kůži – je vrásčitá a vytahaná. A to i přes jejich vypracované svaly.
Takže kostru bychom měli hotovou. Postupně přidáme objem na různé čísti těla: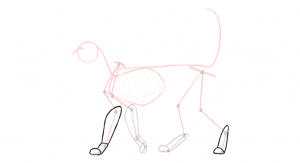 Můžete začít v libovolném pořadí: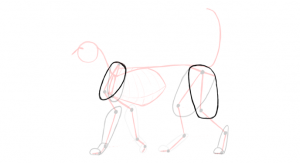 Hladké linie zobrazují kůži, která bude skrytá pod srstí: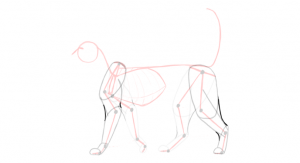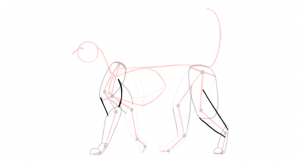 Nyní obecný obrys těla: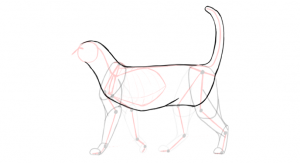 V počáteční fázi se pokuste vytvořit co nejméně čar, specifikujte později: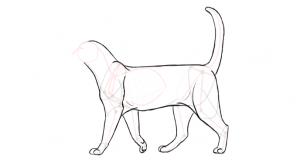 Vytvořte si vlastní metodu nebo metody kreslení od anatomického náčrtu až po zjednodušené kontury těla. Takto vytvoříte svůj vlastní jedinečný styl.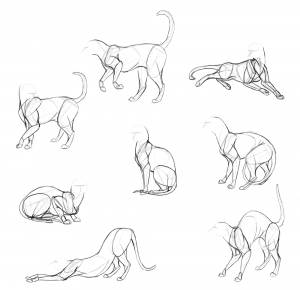 Pomocí těchto náčrtků lze nakreslit kočku s jakéhokoli plemene, jakékoliv srsti a ve všech pózách! Své skici nevyhazujte. Všechny vaše materiály jsou výhradně vaše předchozí práce, ze kterých se můžete poučit. Pokud se cítíte nejistě při kreslení konkrétní polohy – praxe je jediná věc, která Vám pomůže.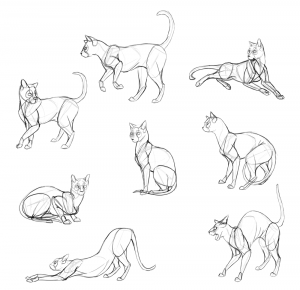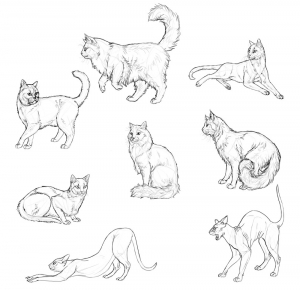 A teď můžete překreslit vše na nový papír a dát tomu barvu!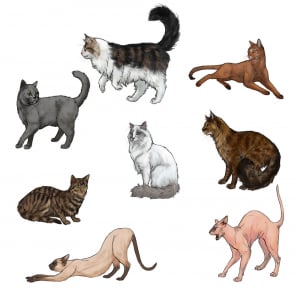 Umělci, kteří pracují digitálně, to všechno mají poněkud jednodušší – vytvářejí nové vrstvy a vybarvují. Ale práce rukama na papíře a se skutečnými materiály, to je teprve výzva! Ale nezapomínejte, že všechny práce jsou dobré, všechny materiály a techniky jsou dobré. Hlavní věcí je kreslit!
Máte rádi se ponořit do konstrukce jakéhokoliv objektu? Přihlaste se do kurzu kresby v Draw Planet, během kterého se dozvíte mnoho informací o perspektivě, anatomii člověka a práci s grafickými materiály.