Obraz Gustava Klimta "Polibek"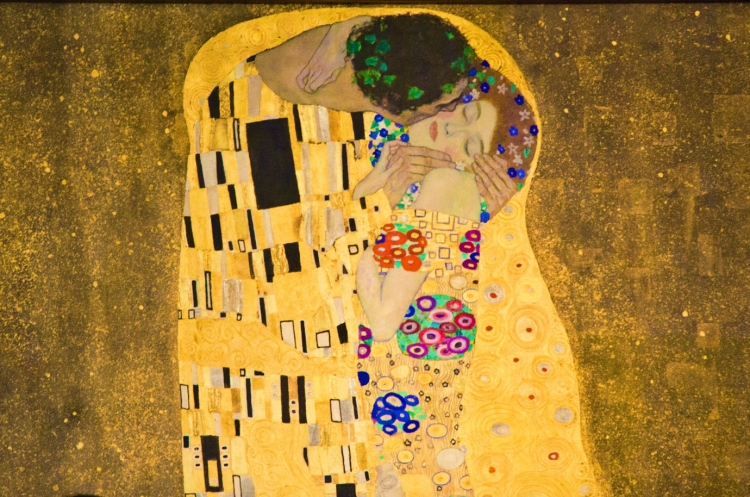 Obraz Gustava Klimta "Polibek", který je považován za mistrovské dílo raného modernistického období, na první pohled se může zdát jen dalším obrazem o vášni a lásce. Ale za zdánlivě jednoduchým příběhem se skrývá mnoho fascinujících faktů.
Inspirovaný byzantskou mozaikou, kterou umělec potkával na svých cestách, Klimt míchal plátové zlato s olejovými barvami, což se stalo jeho stylem.
Obraz byl výsledkem tvůrčí krize Klimta. V roce 1907 Klimt v jednom ze svých dopisů píše "Buď jsem příliš starý nebo příliš nervózní nebo příliš hloupý, ale něco je jednoznačně špatně." Ale během tohoto období namaloval obraz, který mu přinesl obrovskou popularitu.
V roce 1908,byl "Polibek" poprvé vystaven v rakouské galerii umění i když ho Klimt vlastně nedokončil. Jeho nedokončená práce byla odkoupena galerií Belvedere.
Jak koupit umělecké dílo, které ještě není hotové? Je nutné, aby to byla nabídka, kterou nelze odmítnout. Galerie Belvedere zaplatila v přepočtu 25 tisíc korun (dnes by to bylo asi $ 240,000 ) v době kdy nejvyšší cena za malbu v Rakousku byla 500 korun.