Jak tužkou nakreslit nos?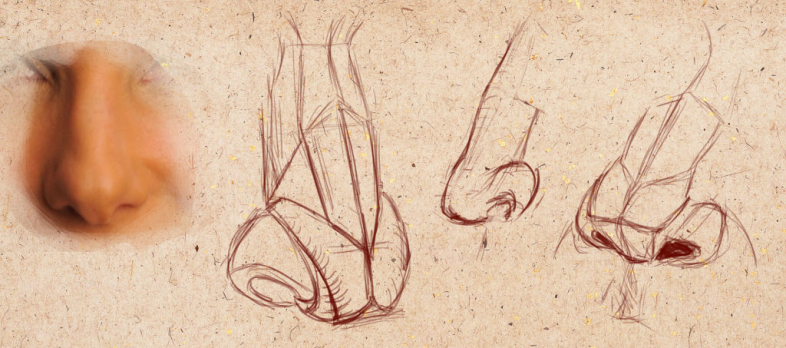 Už jste někdy zkoušeli skicovat obličej? Zdá se vám to složité? Máte pravdu. Při skicování obličeje je totiž nezbytné všechny jeho vlastnosti harmonicky skombinovat. A hlavně – dobře nakreslit nos. Jak na to? Vezměte si skicák, tužku a pojďte to zkusit spolu s námi.
Technika skicování (sketching) je založená na tom, že se kreslení provádí docela rychlým tempem, což v krátkém čase umožní umělci přenést na papír různé objekty nebo nápady. Díky skicování tak můžeme snadno a rychle zachytit své myšlenky, dojmy, vzpomínky a uchovat si je na pozdější dobu.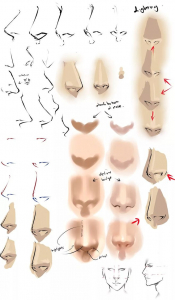 Chcete skicovat obličej a nevíte, jak nakreslit nos?
Pro začátečníky tu máme pár rad, triků a pokynů, jak ho nakreslit bez potíží i obyčejnou tužkou. Musíte zachovat proporce a věnovat se každičkému detailu.
Krok první: Označení
Co to znamená? Naznačte si na papír nos pomocí dvou kolmých čar, které se navzájem protínají. Žádní dva lidé nemají zcela totožný nos. V něčem se vždycky budou lišit.
Krok druhý: Nakreslete kontury nosu a nosních křídel
Co je pro zachycení nosu důležité? Nosní můstek a křídla. Proto je teď ten správný čas je zachytit. Na co byste přitom neměli zapomínat?
Vzdálenost od jednoho křídla k druhému je téměř polovina svislé čáry. Pro správné nakreslení nosu tužkou je třeba dodržovat proporce, jinak nebude výsledek takový, jaký by měl být.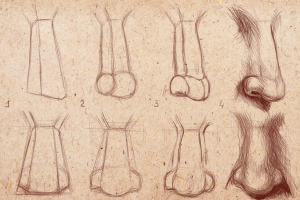 Krok třetí: Zachyťte správný tvar nosu
Právě teď je důležité naskicovat správný tvar. Kdo dobře provedl první krok, má to teď snadné. Zachyťte zakulacené obrysy nosu a jeho špičku.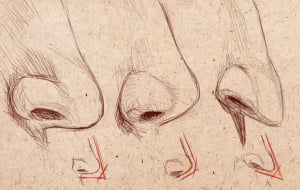 Krok čtvrtý: Detaily
Odstraňte přebytečné linie pomocí gumy, ať máte ve skicáku akademický nos. Pak se zaměřte i na ty nejmenší detaily. Netrefili jste šířku nosu? Opravte ji. Zakreslete nosní dírky. I malé nepřesnosti zkreslí celý obraz. Opravujte své dílo tak dlouho, dokud nebude mít nos ten správný tvar.
Krok pátý: Objem
Aby nos získal na objemu, a ještě víc připomínal skutečný nos, nakreslete obyčejnou tužkou stíny. Výsledkem bude objemná kresba, stejná jako u skutečných umělců.
Nezapomeňte! Při kreslení nosu člověka je důležité dodržet tvar, zachytit proporce. Vyhrajte si s každou čárou i stínem. Používejte ideálně měkkou tužku.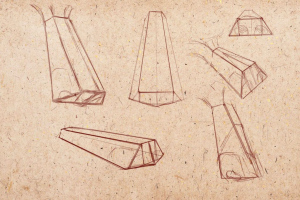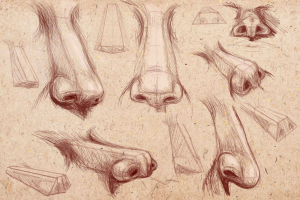 Náš tip: Odborníci doporučují při skicování obličeje kreslit všechny rysy jako oči a nos hned na začátku. Vyžadují totiž velké úsilí a vaši maximální pozornost. Vše ostatní snadno opravíte. Když ale
nezvládnete zachytit správně oči nebo nos, celá kresba vypadá úplně jinak a portrét nebude objekt, který jste skicovali, připomínat.
Tak co, zvládli jste to? Podle tohoto postupu by i začátečníci měli bez problému znázornit nos ženy, muže i dítěte. Chcete se v tom zdokonalit, získat na zkušenostech, nebo se chcete naučit skicovat i další rysy obličeje? Přihlaste se do kurzu figurální kresby!