Akvarelové štětce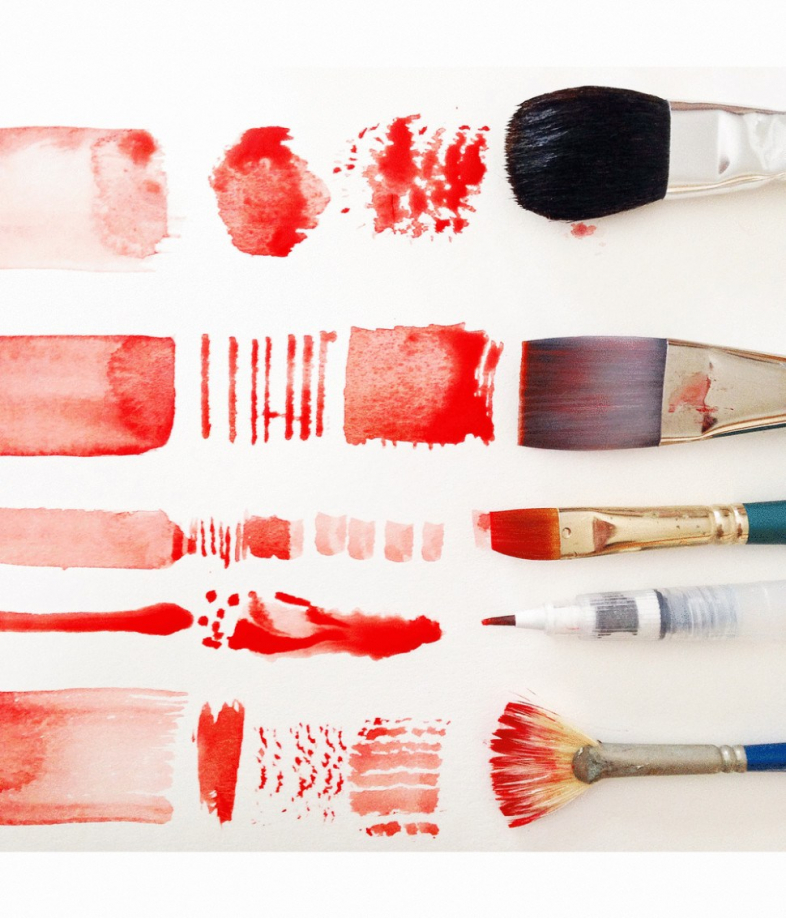 Existují dva druhy akvarelových štětců: přírodní a syntetické. Jak si vybrat ten vhodný a jaká specifika mají jednotlivé druhy? Pojďme se podívat na ty "nejnej" štětce, které se dají sehnat u našich partnerů – v obchodě s výtvarnými potřebami na Soukenické 14.
Začneme s přírodními. Přírodní štětce se vyrábějí ze srsti lasiček, kun nebo veverek.
Raphael
Štětce Rafael mají vlákno s označením Kolinsky, které je z kuny. Je to nejkvalitnější přírodní vlákno na světe a v historii mělo větší cenu než samotné zlato. Štětce mají na sobě označení S, a to znamená, že každý jeden štětec prochází zvláštní kontrolou. Každý štětec si vezme kontrolor do ruky, podívá se pod lupou, jestli je každý vlas perfektní, zkontroluje je i po hmatu a až pak je posílá dál. Proto jsou tyto štětce ty nejdražší.
Na druhé pozici jsou štětce z kazaňské veverky. Jak už specifikace napovídá, veverky se chovají se v Kazani, v Rusku. Díky tomu, že je v těchto oblastech větší zima, jsou chlupy veverek velmi odolné a pevné přestože jsou jemné. Nasakují hodně vody a pigmentu.
Na třetím místě mezi přírodními štětci jsou štětce z lasičky. Štětce z lasičky existuje více jakostí, pro začátečníky existuje i pár levných variant štětců z lasiček z Číny. Samozřejmě ale štětce z lasičky nemají ale takovou výdrž jako štětce z kuny či veverky, které Vám mohou vydržet až 30 let.
Když to shrneme, přírodní štětce velmi dobře nasakují vodu a pigment ale levnější varianty mohou ve větším množství pouštět chlupy.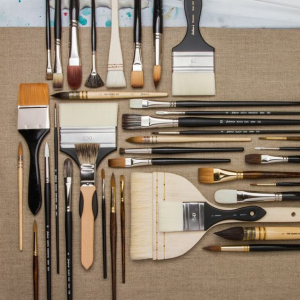 Číslo jedna mezi syntetickými štětci, které najdete na Soukenické 14, jsou ty vyrobené Japonci na Srí Lance. Ti vymysleli vlákno, které se jmenuje Kazan, a to má vlastně napodobovat už zmiňovanou kazaňskou veverku. Vlákno je strašně odolné a měkké ale nepouští chlupy. Syntetický vlas Kazan má o 17% vyšší kapacitu zadržování vody než přírodní vlas.
Číslo dvě jsou štětce Fontaine
To jsou štětce, které mají malinko pevnější vlákno než falešná veverka (Kazan). Štětce Fontaine obsahují odolné syntetické vlákno, ale přesto dokážou pojmout velké množství vody. Je to díky mikroskopickým prohlubním na povrchu každého vlákna. Moc se nehodí pro techniku vymývání.
Astra
Tento štětec je vlastně určený pro akryl, přesto se hodí pro malování akvarelem. Má syntetické vlákno, které po vzoru přírodního směřuje jemně do špičky. Vlákno je velmi pružné, odolné, snadno se čistí. Díky vysoké hustotě vláken naváže obrovské množství barvy. Po namočení v inkoustu dokáže udělat 20 metrů dlouhou čáru. Je to tím, že je vlákno ve štětci strašně dlouhé a díky tomu vcucne hodně pigmentu.


Stále nemáte ve štětcích jasno? Přihlaste se do kurzu akvarelu v Draw Planet, na kterém Vás rádi zasvětíme do všech tajů malování akvarelem.