Abstraktní umění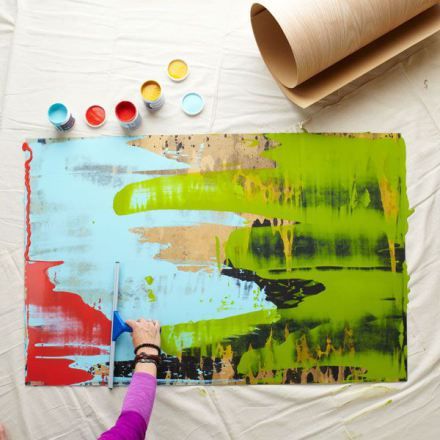 Celá historie civilizace minulého století je založena na vzorcích, algoritmech, principech, rovnicích a pravidlech. Člověk se však snaží o rovnováhu a harmonii! V souvislosti s tím se na počátku století vědecké a technologické revoluce objevuje umělecké hnutí, které nenaslouchá klasickým kánonům malovaní. Naopak spíš slouží k tomu, že poskytuje svobodu podvědomému, chaotickému a zdánlivě bezvýznamnému. Dává člověku příležitost osvobodit se norem a dogmat a zachovat vnitřní harmonii.
Abstrakcionismus (z latiny abstractus – vzdálený, nekonkrétní) je docela širokým směrem v umění 20. století. Vznikl na počátku 20. let minulého století a to hned v několika evropských zemích. Abstrakcionismus je charakterizován použitím čistě formálních prvků prezentujících realitu. Imitace nebo přesné zobrazování skutečnosti není samo o sobě cílem.
Zakladateli abstraktního umění jsou ruští umělci Vasily Kandinský a Kazimír Malevich, Holanďan Pete Mondrian, Francouz Robert Delone a Čech František Kupka. Jádrem jejich metody kreslení bylo nalézt touhu po "harmonizaci", vytvoření určitých barevných kombinací a geometrických forem tak, aby vyvolávaly u pozorovatele různé asociace.
V abstrakcionismu lze rozlišit dva směry: geometrickou abstrakci založenou hlavně na jasně definovaných seskupeních (Malevich, Mondrian, Theo van Doesburg, Ellsworth Kelly) a lyrickou abstrakci, ve které je kompozice organizována z volně tekoucích forem (Kandinsky, Helen Frankenthaler, Gerhard Richter). Existuje však i několik dalších významných nezávislých proudů.
Mnoho abstrakcionistů má klasické vzdělání a vynikající akademické dovednosti. To znamená, že jsou schopni namalovat hezkou vázu s květinami, západ slunce na moři nebo portrét. Z nějakého důvodu ale nechtějí. Vybírají si vizuální zážitek, který není zatížen objektivitou. Umělci diváku usnadňují jeho úkol. Neumožňují mu rozptýlit vnímání na objekty zobrazené na obrázku. Pomáhají mu okamžitě se ponořit do emocí.
Nejlepší způsob, jak procítit práci abstraktního umění, je stát před dílem a jen se dívat a dívat a dívat. Některé práce mohou ponořit diváka do hluboké existenciální zkušenosti nebo extatického vytržení. To se často stává před malbami Marka Rothka a objekty Anishe Kapoora, ale podobný účinek může mít i dílo neznámého umělce.
Bojíte se vzít do ruky barvy kvůli vaší "neschopnosti kreslit" nebo "nedostatku talentu"? Vždyť právě abstraktní techniky jsou používané i v arteterapii častěji než jiné. Pomáhají vyjádřit složité pocity, pro které je těžké najít slova. Pro mnoho umělců, kteří trpí vnitřním rozporem a jejich vlastní neslučitelností s okolním světem, se abstrakce stala téměř jediným způsobem, jak se smířit s realitou.
Při vytváření vlastních abstraktních obrazů a při setkání s uznávanými mistry je hlavní věcí být přítomný v okamžiku a cítit radost z vlastního intelektuálního úsilí.