Stírací gumy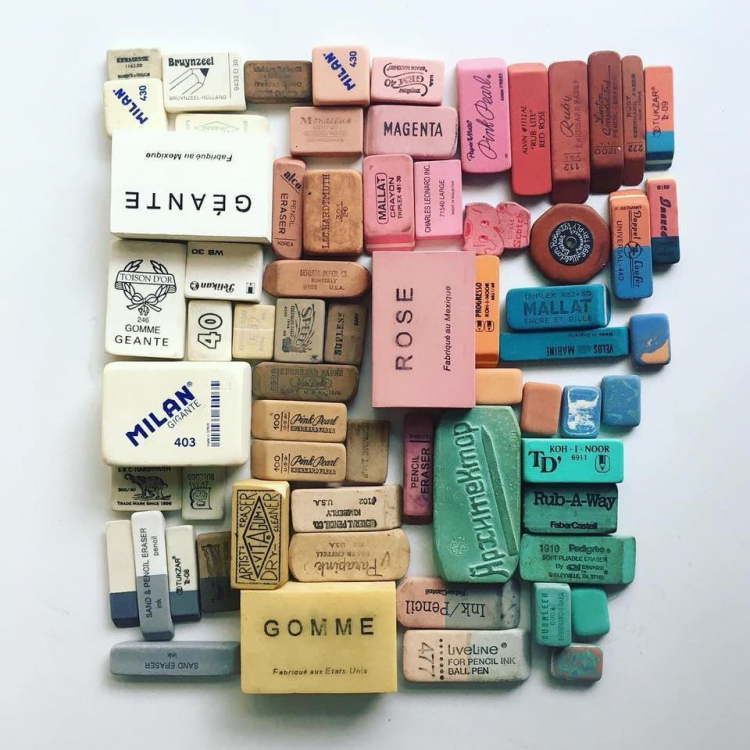 Gumou mažeme nápisy vytvořené tužkou již více než dvě století. Dějiny gumy, s jejíž pomocí mažeme výtvory tužkou, jsou psány už více než dvě století. Předtím tuto funkci nejčastěji zastávala střídka chleba. V roce 1770 však anglický chemik Joseph Priestley objevil, že pryž (později známá jako kaučuk) dokáže mazat tužku úspěšněji než chleba. Je to způsobeno tím, že při přejíždění gumou po papíře vzniká elektrostatický náboj, díky němuž se částice grafitu ke gumě přitahují.
V historii gumy byl přírodní kaučuk po dlouhou dobu jediným materiálem, ze kterého ji vyráběli. Trvalo to až do poloviny dvacátého století, kdy byl vynalezen syntetický kaučuk. A v devadesátých letech začaly gumy vyrábět z PVC a jiných polymerů.
Z čeho je vyrobená moderní guma, můžete určit podle barvy. Červeno-modré nebo šedé jsou vyrobeny z přírodního kaučuku. Jsou velmi elastické, můžeme je zkroutit a natáhnout, aniž by se deformovaly, ale negumují moc dobře. Čistě bílé nebo vícebarevné gumy jsou vyrobeny ze syntetických polymerů, mají dobrou abrazivitu a jsou příjemné na dotek.
Pravděpodobně jste již slyšeli o elastické gumě.
Na pohled zvláštní hnětací guma slouží ke korekci, prosvětlení a odstraňování nečistot. Měkká těstovitá textura odlišuje elastickou gumu od ostatních druhů gum.
Elastická guma je speciální čistící kaučuk, který se snadno mačká a má vysokou absorpční schopnost. Pokud jde o opravy kresby, elastická gumanepoškozuje papír a zachytí částice z grafitu. Neroztírá kresbu. Elastickou gumu vynalezla česká firma Koh-i-Noor, největší výrobce materiálů na kreslení.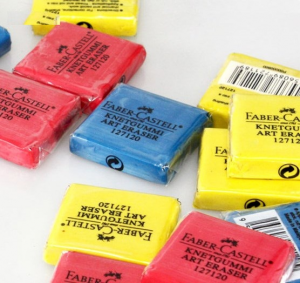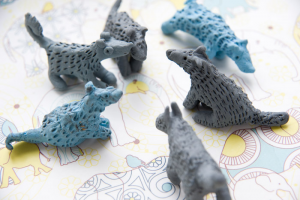 Kromě toho, že taková guma neničí papír, můžete odštípnout malé kousky na vymazání malých detailů a zase je pak vrátit zpátky. Při mazání detailů tak nemusíte krájet tvrdou gumu na tenké proužky, jako to dělá spousta umělců.
Elastickou gumu je potřeba ukládat do fólie nebo jiného krytu, aby nechytala prach. Prach by ji hodně rychle zničil.
Mimochodem, taková guma se prý dá vyrobit i z obvyklé šedé gumy. Namočí se na 2-3 dny do purifikovaného benzínu, a když guma nabobtná, položí se na filtrační papír, který odstraní zbytky nenasáklého benzínu. Po vysušení je vhodná k užívání!