Jak umístit obrazy do interiéru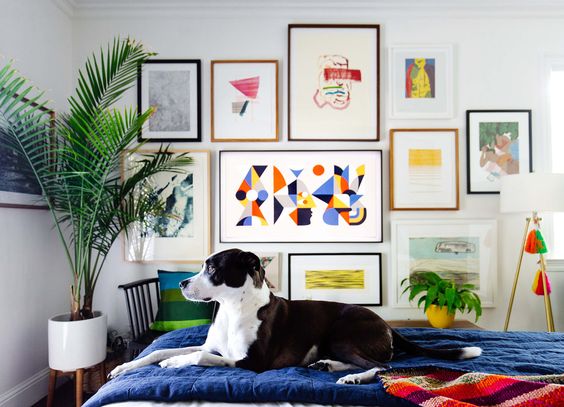 Jak pověsit obrázky? Jak je zkombinovat do jedné kompozice? Jakou zvolit výšku zavěšení? 
UŽITEČNÁ DOPORUČENÍ K UMÍSTĚNÍ OBRAZŮ DO INTERIÉRU:
№1
Než pověsíte obrázky na zeď, položte je na podlahu nebo podél stěny.
Snáz se zorientujete při volbě, jak nakonec obrázky umístit.
№2
Určete celkovou plochu, kterou obsadí kompletní kompozice.
Neměla by překročit 2/3 povrchu stěny.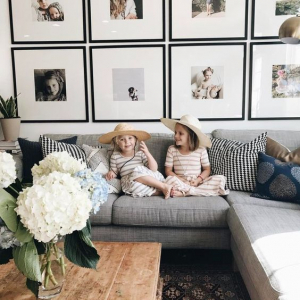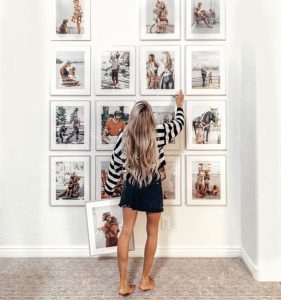 №3
Nejúspěšnější malby bývají na jednoduchých stěnách, malovaných pastelovými barvami nebo pokrytých světlou tapetou.
№4
Horizontální obrazy vizuálně natahují délku stěny a vertikální zas zvětšují výšku stropu.
№5
Je důležité zvolit správnou výšku pro zavěšení obrázků tak, aby byly jasně viditelné. Je nutné se zaměřit na imaginární linii, která vede přesně středem obrazu.
Klasická "muzejní" verze závěsných maleb je 152 cm od podlahy k pomyslné střední linii.
№6
V jídelně a kuchyni o budeme volit nižší výšku, protože s největší pravděpodobností nebudete stát, ale sedět u stolu, u kterého si obrázků všimnete.
№7
Pokud neplánujete obraz umístit přímo na podlahu (dekorativní technika, někdy používaná s moderním obrazem a grafikou), nedoporučujeme věšet obrázky pod 60 cm.
Pověšení obrazů v interiéru : 3 základní metody
1) Symetrické závěsné obrazy

Jak pověsit obrázky symetricky?
Symetrie je rozhodně velmi harmonická. Zorganizuje prostor, umožní pohodlné vnímání celé kompozice. Navíc bude dům útulnější.
Obrázky jsou zavěšeny zrcadlově směrem ke svislé ose.
Spodní část obrazů může být zároveň na jedné přímce nebo na různých výškách. V druhém případě se vyrovnají podél centrální vodorovné osy obrazů.

2) Vyvážení obrazů se zarovnáním na dolním (horním) okraji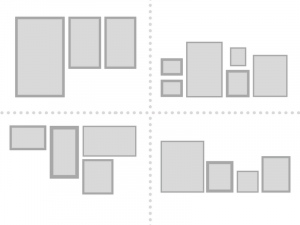 Můžete zarovnat obrazy na jejich horním nebo dolním okraji. Překvapí vás, jaké kouzlo to udělá.
To dá celé kompozici větší stabilitu, organizaci, záchytný bod.
3) Asymetrické závěsné obrazy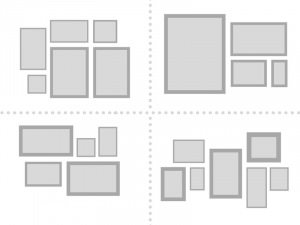 Jak pověsit obrázky asymetricky
Asymetrie zavádí dynamiku a budí pozornost, přitahuje zrak ke kompozici stěny.
Zde lze kombinovat obrazy různých velikostí. Při zavěšení nelze vzít v úvahu pouze jednu řadu.
Asymetrická varianta je poměrně náročná, vyžaduje dobrý smysl pro kompozici, abyste vytvořili harmonický blok maleb.