Jak namalovat obraz
Mnozí se chtějí naučit kreslit, ale bojí se začít a každého napadá spousta otázek. Jaký štětec a papír nebo plátno si vybrat?  Jak přistupovat k barvám? Kde mám začít? Dáme vám odpovědi na všechny tyto otázky. Zde si přečtete základní informace o tom, jak začít s učením se malovat. Postupujte podle těchto tipů, trénujte a cvičte a už se nebudete bát čistého listu. Získáte potřebné znalosti a základní dovednosti! Obraz se přiblíží, bude srozumitelnější a přinese spoustu potěšení.
Část 1. Přípravime se
1. Najděte inspirativní výkresový objekt
Stává se, že jste již vše připravili, ale nemůžete najít objekt, který byste chtěli kreslit. A na to byste měli myslet předem. Ve skříních a zásuvkách stolu bude určitě něco zajímavého. Hledejte vhodné předměty třeba i na nákupu v obchodě s potravinami. Prozkoumejte obrazy vašich oblíbených umělců a inspirujte se. Určitě vás něco napadne.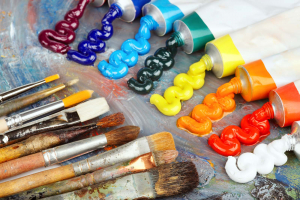 Pro začátek by měl váš výběr zahrnovat objekty, na které je příjemné se podívat. To je důležité pro vytvoření úspěšné práce. Zájem o barvu a tvar vás bude motivovat v procesu zpracování obrazu. Existuje spojitost mezi pocity k objektu a schopností odhalit vlastnosti objektu. Můžete zvládnout mnohem víc, než si myslíte.
2. Poznejte štětce a barvy
Zvedněte měkký a kulatý a štětec a porovnejte je. Vymáčkněte trochu akrylu z tuby na paletu. Pokuste se aplikovat neředěnou barvu pomocí různých štětců na plátno nebo zkuste akvarelem pár tahů na papír. Malujte jednoduché tvary, zkoušejte. Cítíte rozdíly v tazích s různými štětci? Přidejte trochu vody a znovu zkoušejte. Průměrná konzistence barvy má stejnou intenzitu barvy jako neředěná, ale její struktura je vyhlazená. A pak cvičte znovu s hodně zředěnou barvou. Sledujte, jak rychle barvy schnou s různým zředěním.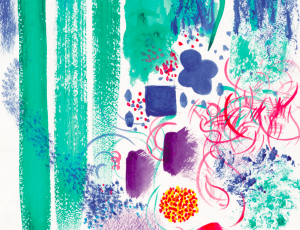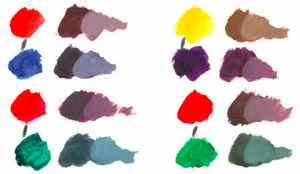 3. Začněte s abstrakcemi.
Abstrakce je zajímavý a snadný způsob, jak se připravit na práci v realističtějším stylu. Je důležité vybrat 3-4 barvy, které se vám líbí, abyste pocítili emocionální spojení s obrázkem. Nakreslete souvislou, úhlovou nebo zaoblenou čáru přes celý povrch listu jednoduchou tužkou. Můžete linie několikrát překřížit.
Vyplňte tvary ve výkresu barvami a odstíny, texturou barvy a štětcem. Vybírejte barvy, které se vám líbí. Poslouchejte svůj vnitřní hlas. Hlavním úkolem je dělat vše tak, jak se vám líbí, zapomenout na všechno ostatní.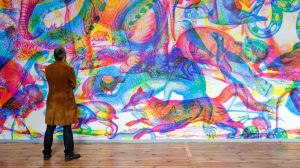 Malujte obrázky ve své fantazii
Věnujte se každodenním činnostem a malujte obrázky jen ve své fantazii. Hledejte harmonii mezi povrchy a texturami, které vidíte kolem sebe. Přemýšlejte nad možnými metodami práce se štětcem a nanášením barvy.
Přijďte si do Draw Planet namalovat svůj první obraz! Máme na to skvělé inspirativní prostředí, kvalitní pomůcky i materiály a lektory, kteří vám pomohou odbourat obavy. 🙂