Starý obraz, který se měl původně prodat levně, se ukázal jako obraz Rembrandta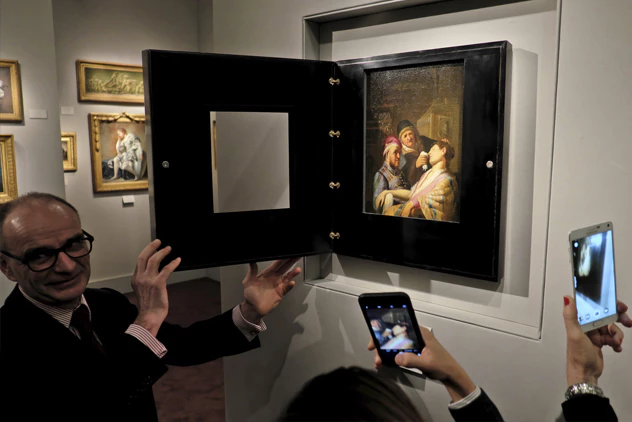 Starý obraz, který zdědili po rodičích bratři Roger a Steve Landauovi z USA, byl původní plátnem od Rembrandta. Ukázalo se to až poté, co se rozhodli dát ho na dražbu. Chtěli na něm vydělat alespoň nějaké peníze. "Předtím jsem si myslel, že kdybych za to dostal pár stovek dolarů, bylo by to velké štěstí," vzpomněl si jeden z bratrů.
Obraz byl ukázán hodnotiteli, ten ale ohromen nebyl: odborník prohlásil, že je to jen kopie původního díla Rembrandta. Aukce začala se součtem 250 dolarů, pak za losu nabídli 800 dolarů. Náhle však vstoupili do aukce kupující z Francie a Německa. Cena nejprve vzrostla na 5 tisíc dolarů, brzy to bylo již 450 tisíc dolarů. Konečnou nabídku uskutečnil kupující z Francie, který nabídl za malbu 1,1 milionu dolarů.
Jak píše Times, v ten moment ani organizátoři aukce nerozuměli tomu, co se děje. Teprve na konci aukce kupující z Německa vysvětlil jednomu ze zaměstnanců společnosti: "Toto je Rembrandt. Hledal jsem tento obraz po celý svůj život. " Ukázalo se, že prodávané plátno bylo součástí řady děl, které Rembrandt namaloval již počátkem 17. století.
Bratři Landauové se o úspěšném prodeji obrazu nedozvěděli okamžitě, ale teprve až po několika dnech. "Den aukce se shodoval s židovským svátkem Yom Kippur, tentokrát jsem vypnul telefon. Teprve poté jsem zavolal zpět, abych se ujistil, jak to dopadlo s tím obrazem. Bylo mi řečeno, že "všechno obecně, vyšlo poměrně dobře," řekl jeden z bratrů.
Kupující obrazu jej nakonec předal holandskému sběrateli Thomasi Kaplanovi. Nyní je plátno vystaveno v muzeu Getty v Los Angeles.