Ceramics course for beginners. Creative tableware for your kitchen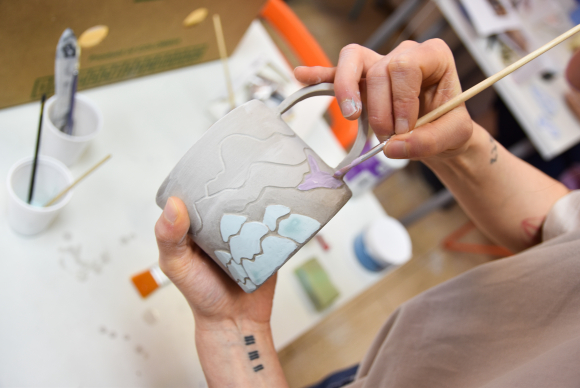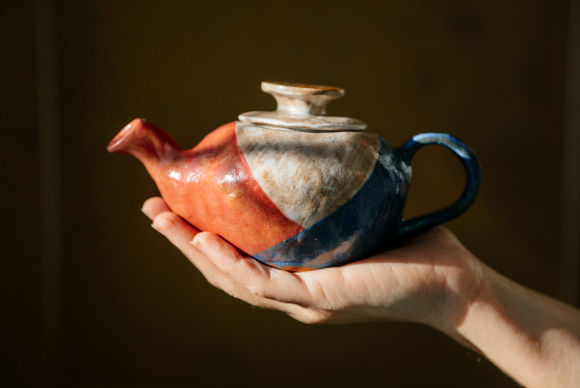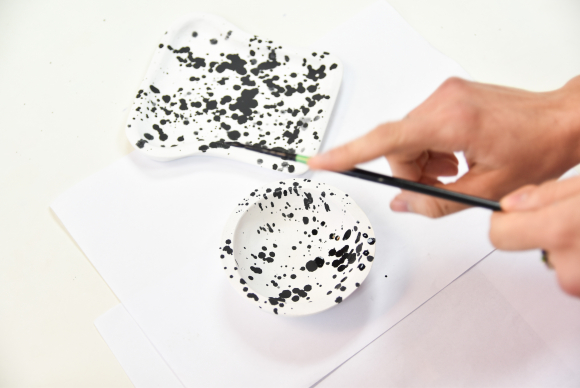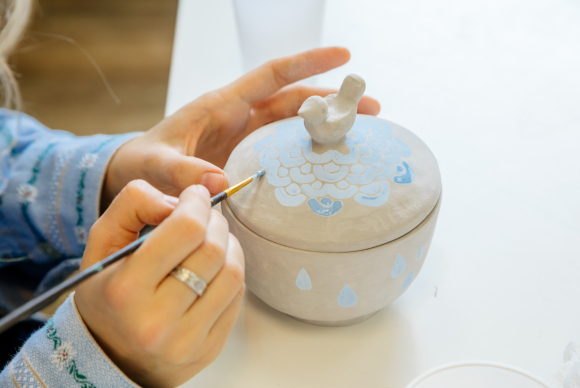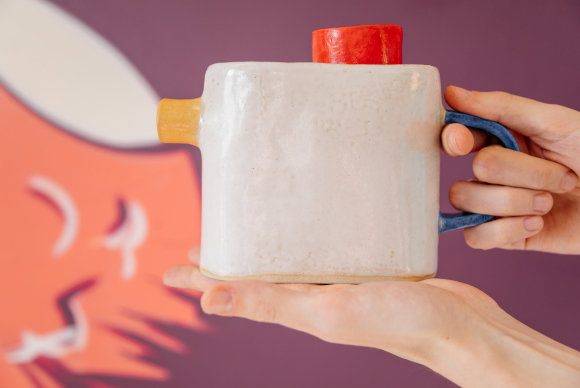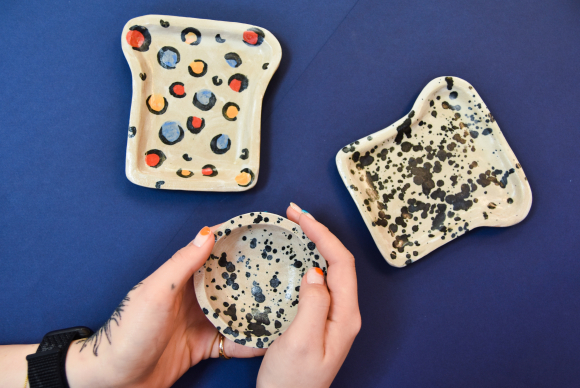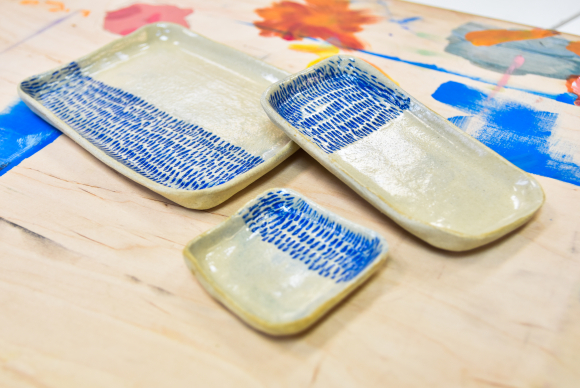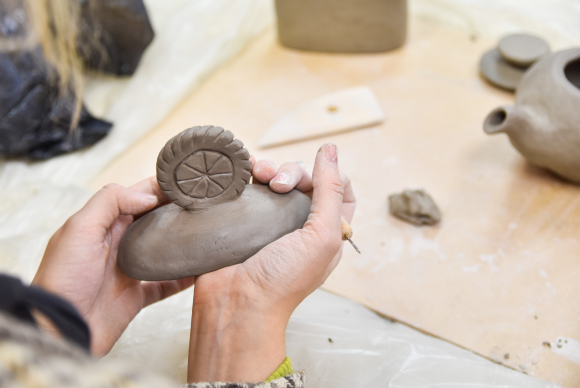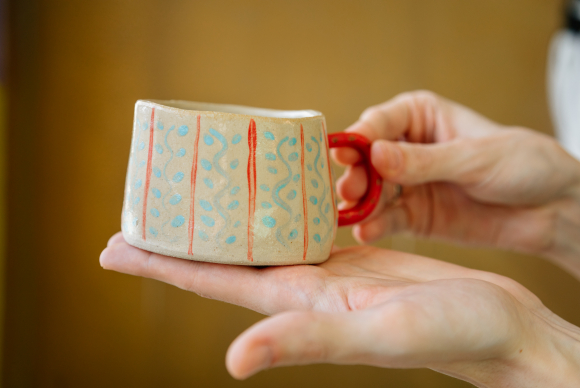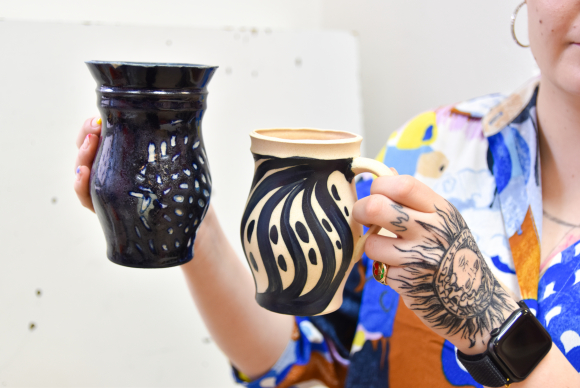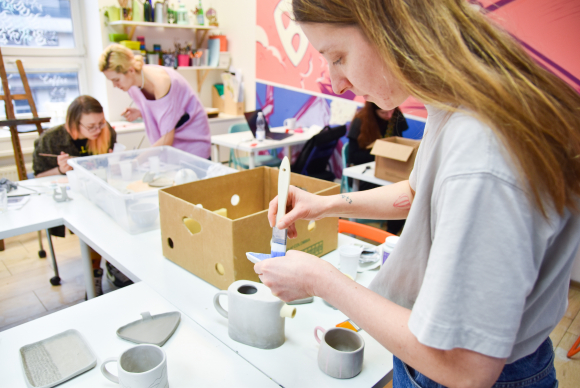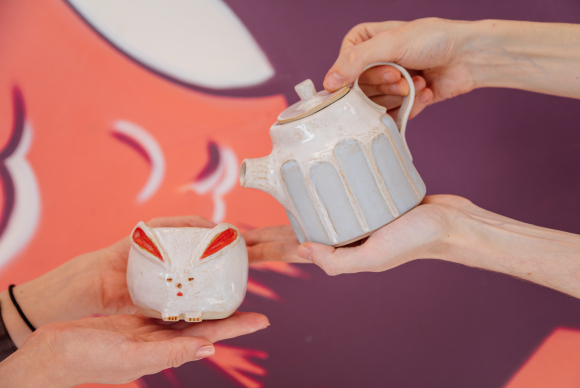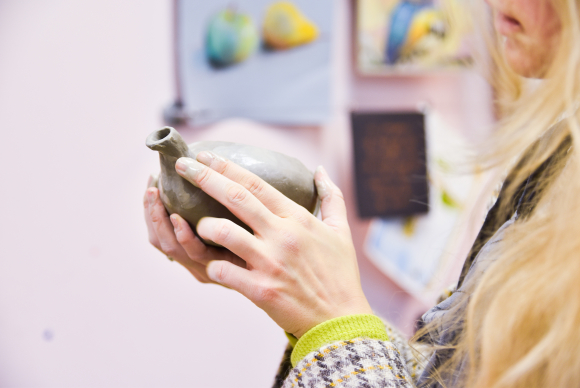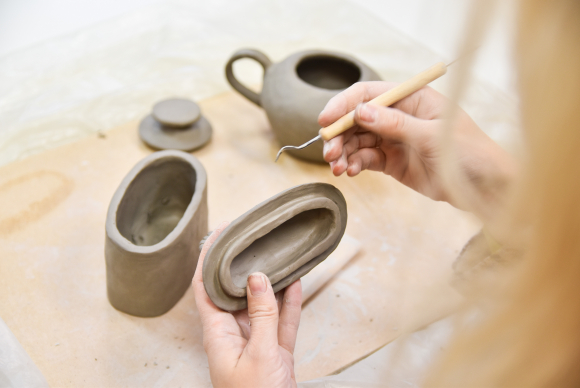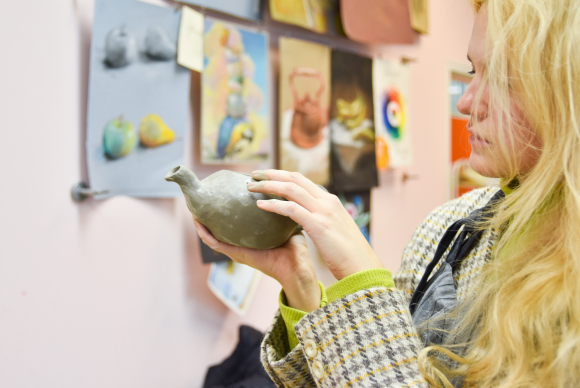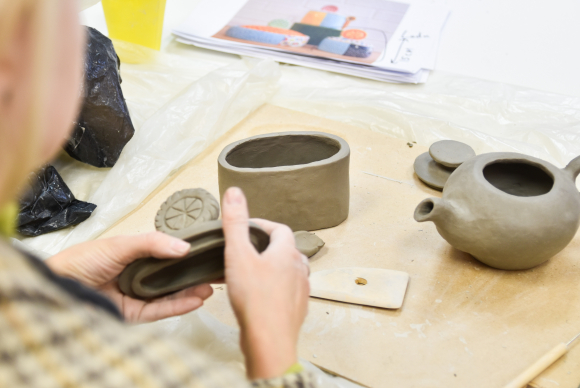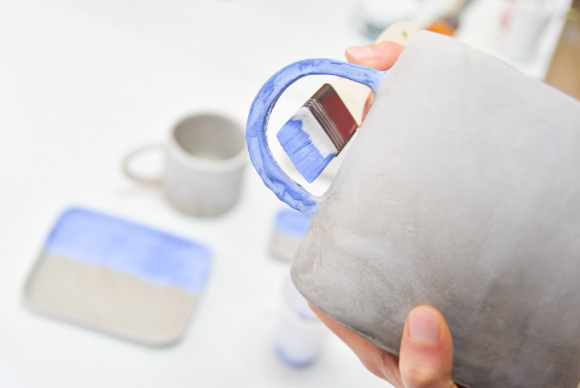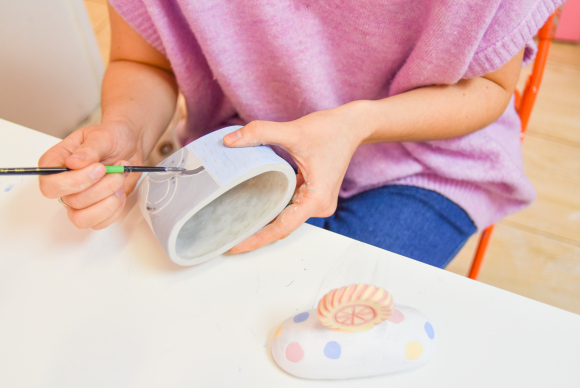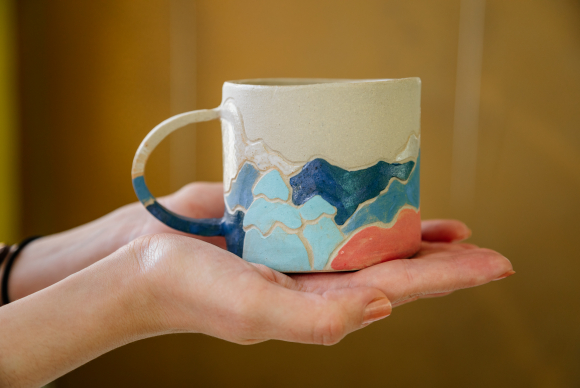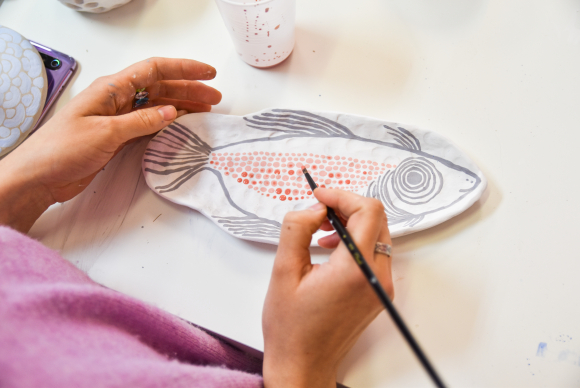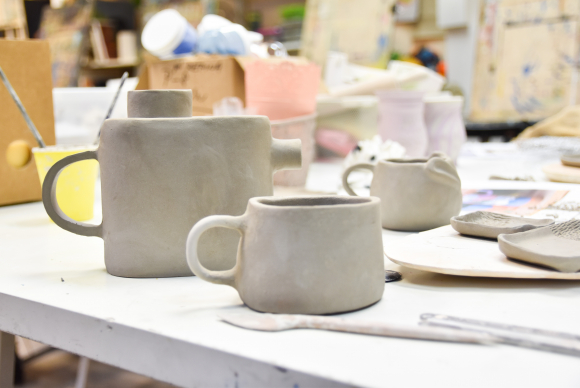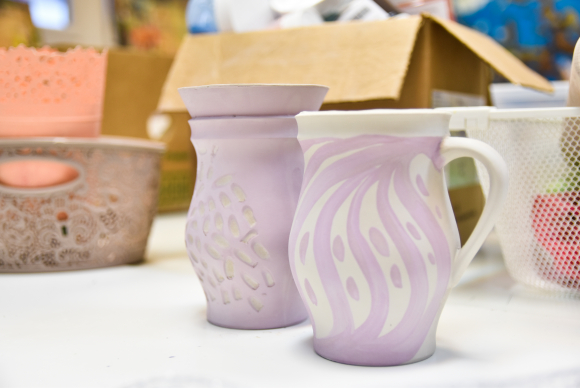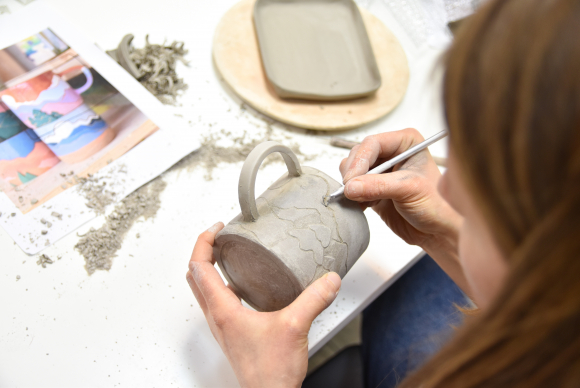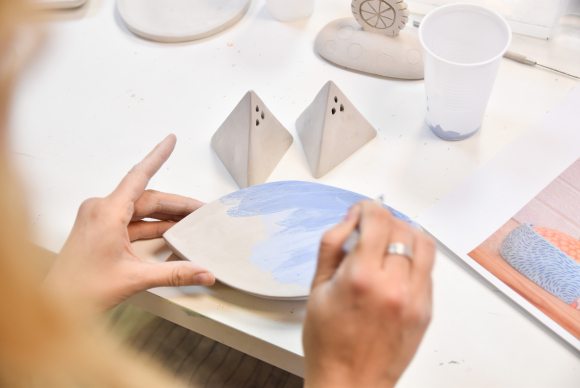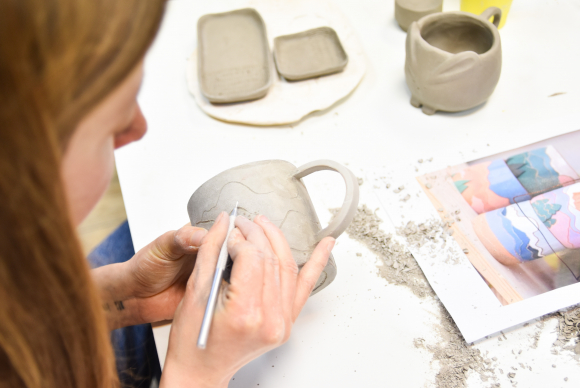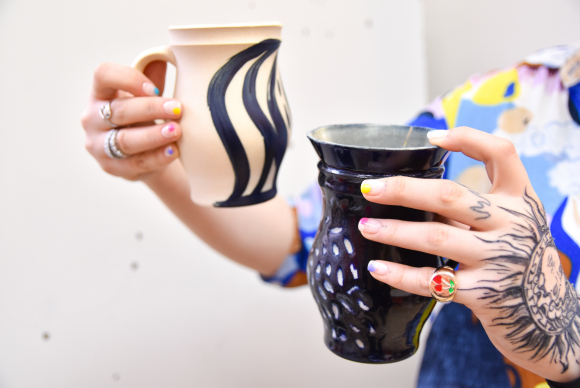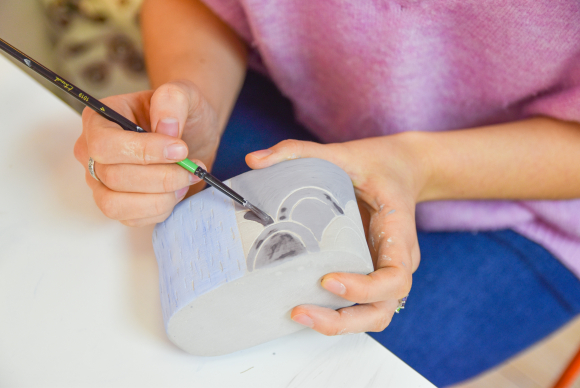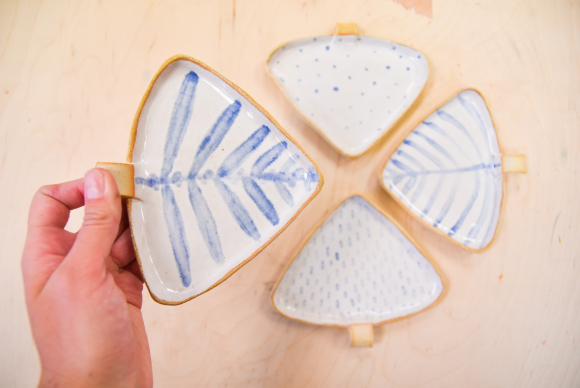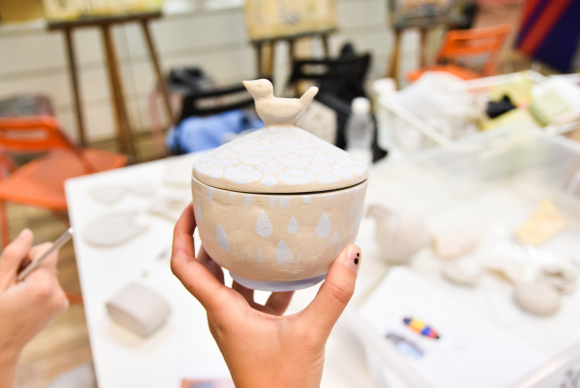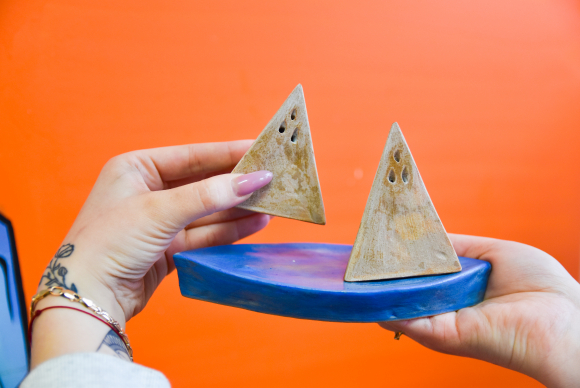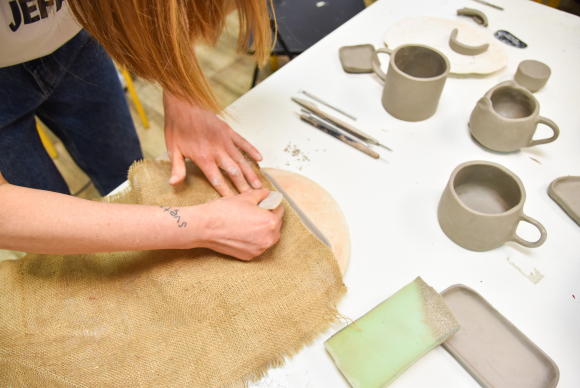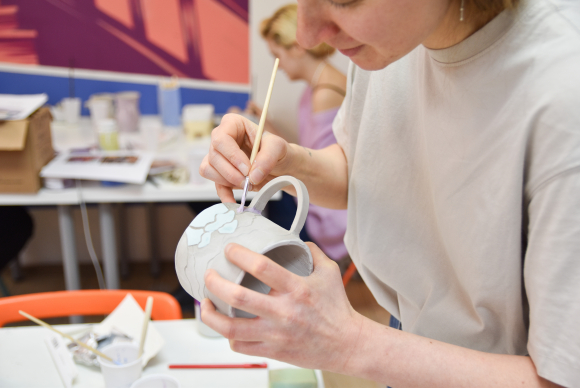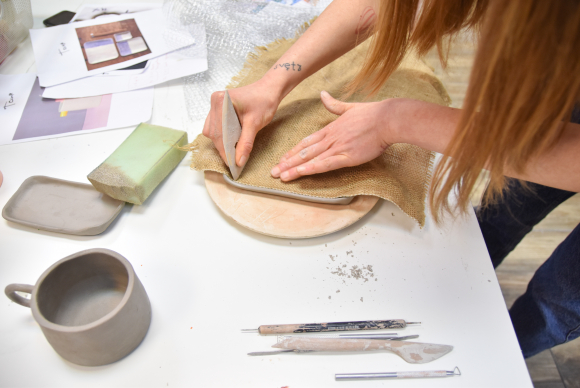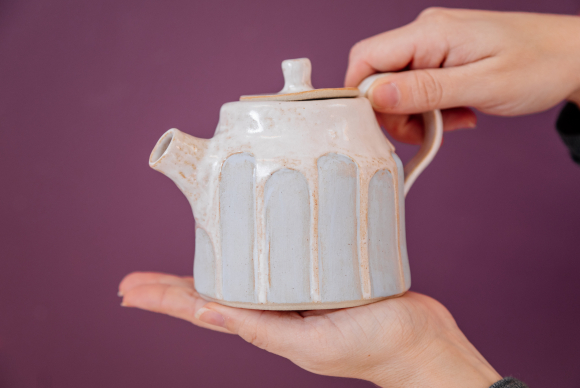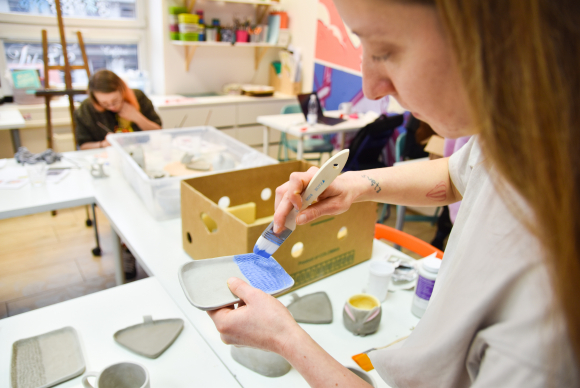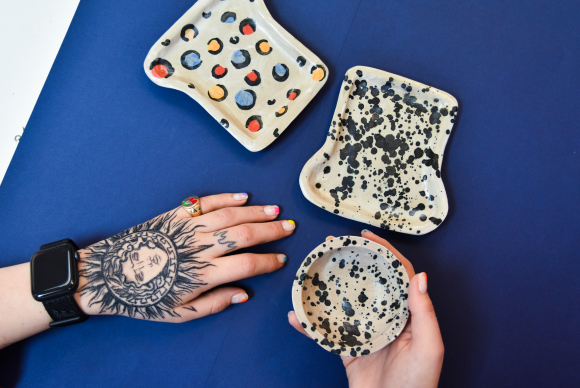 Ceramics course for beginners. Creative tableware for your kitchen
We will teach you the basics of ceramics from the very beginning!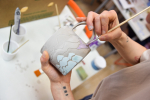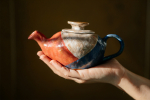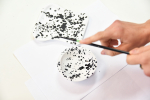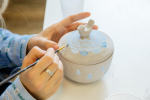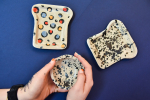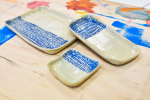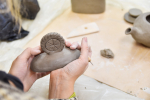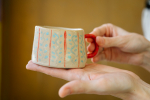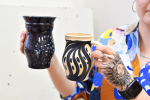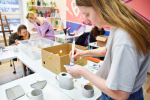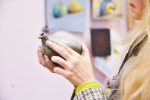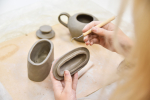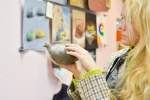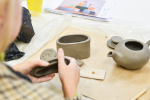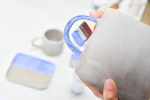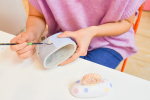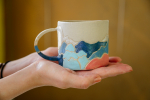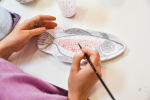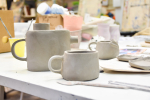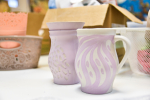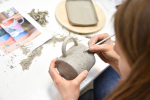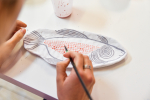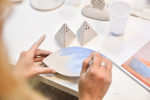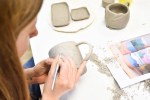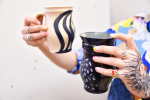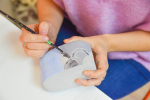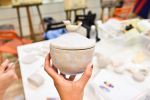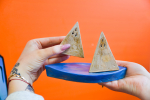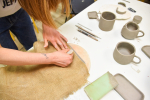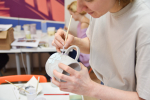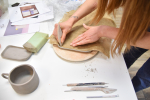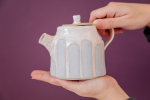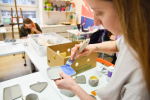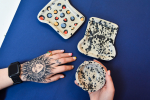 We will teach you the basics of ceramics from the very beginning!
Great friendly atmosphere at the studios
Effective programs and motivating lecturers
Get great results fast. Perfect for total beginners
Flexible missed lessons replacement
We will provide you with all the art materials
Would you like to learn to make amazing things out of clay? At Draw Planet, we have prepared a ceramics course with a fantastic program for you!
Would you like to serve food on dishes and plates that you made? Would you like to pour tea for visitors from your own teapot? Our course is for everyone- including those who have never held ceramic clay in their hands. We'll go through everything from the very basics.
In our ceramics course, we will introduce you to various materials, explain the process of glazing, we'll teach you to work with engobes and slip and make relief decorations on ceramics. Together we will create, among other things, coasters and salt and pepper shakers. We will also make small decorative plates and then create a completely original mug according to your own ideas. In the next part of the course, you will then make a beautiful sugar bowl and last but not least, a completely original teapot. 
Our amazing tutors will explain everything step by step. You will be drawn into the world of beautiful and imaginite utility ceramics where you can create and define your own individual style. If you are tired of boring, mass produced kitchen utensils and plates, now is the time to bring your own creative perspective. At Draw Planet we believe that one can create great things from one's imagination. So don't hesitate, and sign up for a ceramics course today. 
What about you? What do you need to bring? Nothing at all🙂! We will provide all materials and aids free of charge during the course.
Course is taught in English!
You don't need to buy anything extra for the course. All the materials and equipment will be prepared and provided for you at the studio.
If it happens that you can't come to a lecture, we will offer you replacement dates. No worries, you won't miss anything.
Sign-up form and all the information about the dates of the course are lower on this page! Don't leave it for later – SIGN-UP NOW!
Friendly and inspiring Draw Planet atmosphere
With us you will learn quickly and make great progress
One lecture once a week, same day every week
All top quality art supplies are always provided for free
Nice professional lecturers and effective programs
Perfect for beginners. We will help and support you
There are 8 lectures + 1 bonus lesson at the end
Each lecture is 3 hours. Course is 27 hours total
Price for the whole course is 6300 CZK
Prince includes all the great materials
If you miss a lecture – we will do our best to replace it for you! Just write us an email.
Look at students who started with this course. You will manage this too. Learn to create with Draw Planet!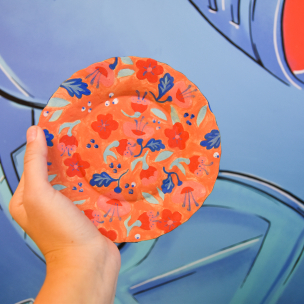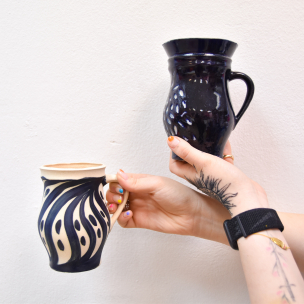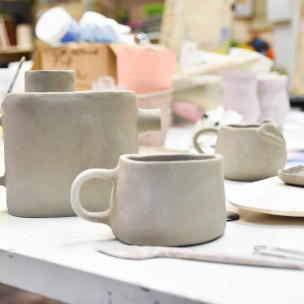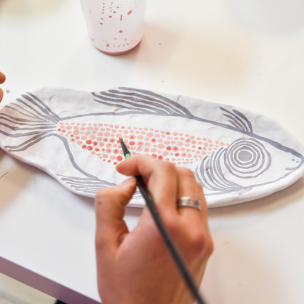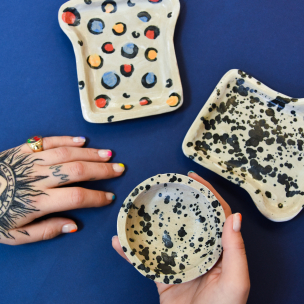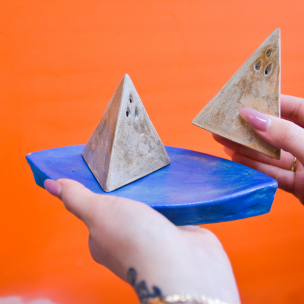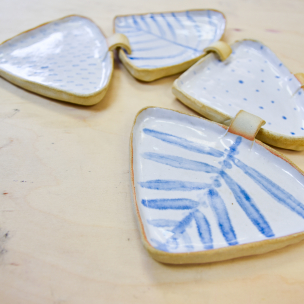 More about course
Do you want to get started with making ceramics? The ceramics course at Draw Planet will acquaint you with everything related to clay sculpture and working on a potter's wheel. This Ceramics course is also suitable for beginners who have not created yet! We have compiled an excellent program for you, according to which we will explain everything simply from the beginning. We will show you the subtleties of this material and the secrets of the trade so that you can fully dive into working with clay. This course leaves nothing to change, we will discuss in detail every single stage of creation and the various steps they entail- such as the creation of certain basic and more complex shapes and color theory. We will also learn glazing. The first final product we make will be done in the very first lesson! You will find that working with clay isn't only creative but also fun! We will introduce the basics of ceramics for beginners with feeling. 
We will sculpt and carve products of various complexities- from simple shapes to complex and decorative ones. We'll talk about working with flowing glazes. How do you make your own set of ceramic dishes? The ceramics course for beginners is where you will find your answer. After completing the three stages of ceramics work: modeling, painting and baking in the kiln, you will have all of the skills you need to create a unique ceramic product from a piece of clay from scratch. Modeling from clay at Draw Planet will educate and entertain you with our fantastic tutors. Not only will the experience of learning be pleasant and fun, you will acquire a lifelong set of skills with us. 
Are you looking for the right course and entering keywords such as ceramics course? Ceramics course for beginners in Prague? Ceramics course in Prague? Pottery course for beginners? The basics of glazing? You don't have to search anymore- you have found the right one! The ceramics course with Draw Planet will be one of the best parts of your week. Come and immerse yourself in the amazing atmosphere of our studio and start a hobby that will never let you go.
Course program
1

1st Lesson:
We will talk about materials, the nature of ceramics, the basic methods and rules of working with ceramics and pottery. We will learn the theory and rules of applying and working with glazes, slides, engobes, oxides and more. We will make our first project: coasters, and apply a small relief on them.

2

2nd Lesson:
We will continue to work on our dried coasters and try out applying an engobe. We will make a drawing, adjust it with sandpaper and fire the coasters for the first time. In the meantime, we will also start with our salt and pepper shaker project.

3

3th Lesson:
We finish up and paint all of the products from the previous lessons and then glue a cork bottom to the finished coasters.
Then we will get started on creating a cup from our imagination and according to our taste. We can choose any technique we like!

4

4th Lesson:
We finish up and paint all of the products from the previous lessons and then glue a cork bottom to the finished coasters.
Then we will get started on creating a cup from our imagination and according to our taste. We can choose any technique we like!

5

5th Lesson:
We continue with adding and altering details on the cup that we made and then we dive into the process of creating a sugar bowl and a lid for it. We will learn how to combine two separate elements into one piece.

6

6th lesson:
We will start with creating a tray for sushi or tapas! We will learn how to crimp clay into shape and create decorative surfaces.

7

7th lesson:
We will paint some clay and then produce a mug by casting, pressing and carving coloured funnels.

8

8th lesson:
We create a beautiful original teapot

9

9th lesson:
We finish and detail all of our previous pieces so that everything is done perfectly according to our ideas and how we like it.
Frequently asked questions and answers
I DON'T KNOW HOW TO DRAW/PAINT/DESIGN ETC. CAN I STILL COME TO DRAW PLANET?
Definitely! That is what we do – we teach people to draw and develop creatively when they don't even know how to start. We specialize in instructing beginners and people with no creative or drawing experience. We approach all of our students individually and with great care. It means the world to us that you learn the skills and finish Draw Planet courses absolutely satisfied with your studies.
CAN I COME JUST FOR A VISIT?
Sure! We love our guests and understand that they want to meet teachers, see the studios, and observe the creative process. We will show you everything that you are interested in and will answer all of your questions. It would be awesome if you let us know you are coming a few hours in advance.
WHERE ARE THE STUDIOS?
We have prepared beautiful studios for you in Prague city centre with perfect public transport availability. Draw Planet address is Sokolovská 131/86, Praha 8, Karlín. Right on the Křižíkova station (metro, tram). You can find us in the Zirkon building, 3rd floor. Also on occasion there may be available parking around the building.
HOW AM I SUPPOSED TO LEARN TO DRAW, IF I AM ALWAYS SO BUSY AND SIMPLY DON'T HAVE THE TIME?
In our superconnected and hurried times it is essential to make some time only for yourself. Surely, it is not always possible, but if we are speaking longterm, if you are busy nonstop it might backfire. If you don't allow yourself to rest and regenerate, even your work will be ever harder to manage with all the stress. Creative tasks allow you to switch, find new original solutions and learn new skills, you will feel motivated with the progress you are making and will be in a supporting and motivating environment. Try looking at your schedule and finding some space for yourself, it will do you good.
CAN I TRANSFER MY COURSE OR WORKSHOP TO A FRIEND OF MINE?
Yes. Only please let us know in advance.
WHAT HAPPENS IF I CAN'T COME TO A LESSON?
We understand that anything can happen and you might not be able attend every single lesson in the course. It is not a huge problem if you miss one lesson. You can still manage everything in the program – our teachers will do everything to help you so that you are not left behind. When it is possible, sometimes in some courses, we organize a special last lesson so that everyone who has missed a lesson can finish their work or have a cup of tea. But this is not always the case, due to the complications of scheduling. Please try to attend all lessons in a course.
WHAT DO I NEED TO BRING WITH ME?
Nothing. We always provide you with all the materials that are needed for the course for free. You don't need to bring anything except for your imagination. Just come and enjoy the lesson.
HOW LONG HAVE YOU BEEN TEACHING COURSES?
Draw Planet has been offering courses and workshops for more than 3 years now. And we are constantly continuing to perfect our courses and materials and to find new inspirations. We have managed to design our courses in such a way that they are always exciting and engaging both for adults and kids.
CAN I LEARN TO DRAW, IF I DON'T HAVE A BIG TALENT?
We all have talent for creating art. But we have to develop it. We all used to draw and paint when we were small. But some were supported, complemented and provided with right conditions, others were not. So some developed their talent more, and others did not yet. But that is the beauty of creating art – you can start and learn any time. It is never late to train and make quick progress. You simply have to begin your drawing course and amaze yourself with the progress you are making.
WHY EVEN DRAW, PAINT AND DESIGN ANYTHING AT ALL?
There is a mounting amount of evidence for why creativity is good for you! You will express your emotions freely, improve your memory and get rid of stress. Thanks to creativity you will be more noticing, more empathetic and even more effective at your work. You will be motivated by the progress you are making. But mainly you will have some time dedicated only for you and beautiful works you will make. Creativity makes people happier, join us now!
DOES IT MAKE SENSE TO COME IF I CAN'T EVEN DRAW AT HOME?
Of course :) Aspiring artists often lack guidance and support needed, they don't know how to do something they crave and don't have a direction. To make good progress you must have a professional leading you, helping you every step of the way and motivating you during your studies. Our experienced and energetic lecturers will guide you, motivate you and inspire! Our effective programs will ensure that you are making big advancements. And it is always fun at Draw Planet. Come and see for yourself!
WHO ARE YOUR LECTURERS?
Everybody who teaches at Draw Planet is always very friendly, creative and open-minded. All of our lecturers are very experienced teachers who are also active in their own creative pursuits.
WHAT ARE THE COURSES AND WORKSHOPS?
A course is a set of lessons, usually between 7 and 11 in number. Normally one lesson in a course is 3 hours (180 minutes).
A workshop is usually an individual lesson or 2 lessons. Workshops can last from 2 hours to 8 hours for a whole day workshop.
CAN I RECEIVE MONEY BACK FOR A COURSE I AM NOT ABLE TO ATTEND?
A refund for a paid course is possible. We try to approach each situation individually and always try to find the best solution for you. If it's possible, we can reschedule or offer you a different course. For a more detailed policy on refunds, please see "Fee return" in the About Us section.
WHAT IF I AM NOT SURE WHICH COURSE TO TAKE?
It is often the case with young artists that they are unsure which technique they want to pursue. The easiest solution is to write us at [email protected] and let us know what you expect from the course. We will find the course that suits you best. The important part is to take the first step.
I HAVE COMPLETED A COURSE, WHAT NEXT?
We encourage you to continue to develop your creativity! You can buy art supplies and continue to draw and paint on your own. You might consider coming to the studio just to draw on your own or to join a new course or workshop. We often also throw little parties, take trips, and organize interesting talks from creative professionals, like designers, painters, etc. Sign up for our newsletter below and like us on Facebook. https://www.facebook.com/drawplanetcz
Looking for a different course?